Lean Cuisine meals are advertised as a quick and easy way to eat healthily while you're trying to lose weight. A closer look at Lean Cuisine nutrition facts reveals they may not be what you expect them to be.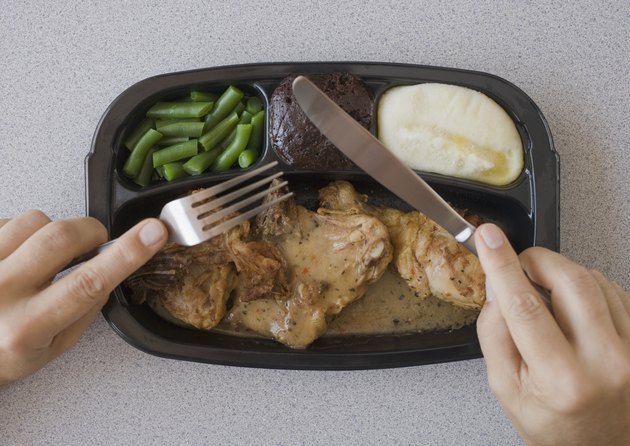 Tip
Lean cuisine meals may appear to be healthy when considering calories alone. However, because they are processed food, many are high in sodium while being low in protein and fiber.
Options for Lean Cuisine Meals
Lean Cuisine is a product line from Nestle. Originally owned by Stouffer's, the brand got started in 1981 to fill the demand for weight management products. They offer meal plans created by Lean Cuisine registered dietitians that claim to be able to help you reach or maintain a healthy weight while enjoying the convenience of nutritionally balanced meals.
According to the official Lean Cuisine website, as of August 2019 there are 91 frozen meal options across all product lines. The Lean Cuisine calories range from as few as 150 calories in the Origins Mushroom & Vegetable Shepherd's Pie to 430 calories in the Lean Cuisine Marketplace Chicken Pad Thai.
There are several product lines to choose from, some of which are better than others in terms of calories and nutrition. These include:
Lean Cuisine Origins: The newest line of recipes includes meatless dishes made with organic ingredients. Many of the 12 entree options are also vegan and some feature 13 grams or more of plant-based protein. These meals contain anywhere from 150 to 340 calories each.
Lean Cuisine Marketplace: This line features 27 entrees ranging from 190 to 430 calories each. These meals are chef-inspired and feature some dishes that are made with organic, GMO-free ingredients. Some options are also gluten-free.
Lean Cuisine Comfort: You'll find 31 entrees in this line, all meant to be healthier alternatives to your favorite comfort foods. Calories range from 160 to 420, depending on the meal.
Lean Cuisine Favorites: In the final line of products, there are 21 available entrees. This line claims to satisfy your craving for the familiar dishes you love. Many of the options are made without artificial preservatives. These range from 230 to 360 calories per meal.
Lean Cuisine Nutrition
The Lean Cuisine calories aren't the only thing that needs to be considered if you're trying to find the healthiest option. It's important to take a close look at the macronutrient content and the actual ingredients in the Lean Cuisine meals to determine just how healthy they are.
Looking at the same 91 Lean Cuisine meals, it's no real surprise that the lowest calorie meal also offers the least amount of protein at 6 grams. The Lean Cuisine Comfort Chicken Club Panini offers the highest amount of protein at 24 grams, as part of 350 calories.
The Lean Cuisine Origins Coconut Chickpea Curry offers the highest amount of fiber, coming in at 20 grams. The Chicken Club Panini that ranks on top for protein has the smallest amount of fiber, at just 1 gram.
The Chicken Club Panini comes in at the top once more, with 10 grams of fat. The Lean Cuisine Marketplace Chicken Cashew Stirfry comes in with the least fat, at 2 grams.
For all the low-carb dieters out there, Lean Cuisine meals aren't a good choice. The meal with the fewest carbohydrates, Steak Portabella, offers 11 grams of carbs with 3 grams of fiber for 8 grams of net carbs. The highest carb option, the Lean Cuisine Marketplace Vegetable Stir Fry comes in at an astonishing 82 grams of carbohydrates per serving, with only 6 grams of fiber for a total of 72 net carbs.
According to the American Heart Association (AHA), on average, Americans consume more than 3,400 milligrams of sodium per day, when the recommended daily amount is no more than 2,300 milligrams, and ideally no more than 1,500 mg per day. The AHA says eating too much sodium can cause high blood pressure and increases your risk of stroke, heart failure and kidney disease.
The sodium content ranges from 280 milligrams in the Comfort Thin Crust BBQ Recipe Chicken Pizza to 1,060 milligrams in the Marketplace Vegetable Stir Fry. For those who are trying to keep a close eye on their sodium intake or anyone who deals with high blood pressure, there are several unhealthy options.
Though not all of the Lean Cuisine products are made with artificial preservatives, colors or GMO ingredients, some of them contain things like soy protein, sugar, corn syrup, silicone dioxide (to prevent caking) and other processed ingredients.
The AHA says highly processed foods, those manufactured with ingredients that aren't typically used in cooking, account for 50 percent of the calories and 90 percent of the added sugars in the American diet. They recommend cooking more meals at home, opting for less processed options and adding fruits and vegetables from the produce section, your local farmer's market or your own garden.
According to the U.S. Department of Agriculture (USDA), to lower your sodium intake you should opt for baked chicken and turkey with the skin removed instead of smoked and cured meats, herbs and spices such as onion powder and cilantro rather than soy sauce or ketchup and plain rice and pasta instead of the quick-cooking equivalents.
Are They Really Healthy?
The single serving of Lean Cuisine pizza (6 ounces or 170 grams) is 410 calories with 10 grams of fat, 3 grams of fiber, 21 grams of protein, 59 grams of carbohydrates and 870 milligrams of sodium.
One slice of a large hand-tossed pepperoni pizza weighs 123 grams, making it slightly smaller than the Lean Cuisine. It contains 330 calories, 14 grams of fat, 15 grams of protein, 38 grams of carbohydrates and 990 milligrams of sodium.
However, the majority of these meals fall between 250 and 300 calories which doesn't satisfy the recommended calorie intake for one meal. While there are vegetables, there needs to be more of them to qualify as a serving. Many of the meals are made with refined pasta, so that's why it's important to go beyond Lean Cuisine nutrition and look closely at the ingredient list before deciding which ones to purchase.
If you're cutting back calories to lose weight, some of the meals provide enough calories to qualify as a meal. The refined ingredients and sodium are enough reason to avoid them when and where possible. Opt for whole foods for the best nutrition.