When it comes to losing body fat, the key is to burn more calories than you take in — and there are two ways you can do that. One way is to reduce the number of calories that you're eating, and the other is to burn off calories through exercise.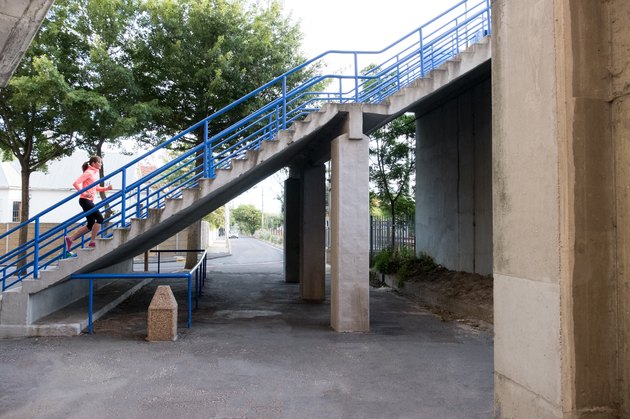 While maintaining a proper diet can help you shave off excess calories, your body will change faster with the right fat-burning exercises for women. Hit the gym several times a week with a fitness regimen that combines cardio and strength training.
Tips
Start your workouts with strength training and finish with cardio or HIIT. Another option is to lift weights at least three times per week and do cardio or full-body circuits on separate days.
Torch Fat With Cardio Workouts
One of the best ways to blast away calories is through cardiovascular exercise. Cardio exercise causes your heart rate to increase, which gets your heart pumping harder, your body sweating and calories burning.
The treadmill, elliptical trainer, stationary bike and stair stepper are among the best cardio machines at the gym. They allow you to alter the speed, as well as the resistance, during your workout, keeping your body challenged. Perform cardio exercise three to four times a week for 30 to 45 minutes to burn calories and shed excess body fat.
Pump Some Iron
While cardio exercise torches more calories during the workout than lifting weights does, building lean muscle mass will help you burn more calories in the long run. Lean muscle causes your body to burn calories at a higher rate, even when you're not working out. According to a 2017 study published in the Journal of Human Sport and Exercise, high-intensity strength training increases resting energy expenditure for up to 24 hours after exercise.
Lift weights at least three times a week using a combination of lower and upper body exercises to build lean muscle. Most women tend to store fat on their arms, legs and backside, so focus on these areas. To work on your arms, perform exercises like the shoulder press, biceps curl and triceps extension.
When it comes to toning your lower body and building your glutes, look no further than the squat and lunge. A fat burning gym workout for female beginners may include bodyweight squats, walking lunges, one-legged deadlifts, Bulgarian split squats and stair climbing on the StairMaster, for example.
Boost Your Metabolism With HIIT
High-intensity interval training, or HIIT, involves short but intense bursts of activity followed by less-intense activity. This training method facilitates weight loss and helps reduce belly fat, according to a 2017 study published in Medicine & Science in Sports & Exercise. HIIT comes in many forms but is typically done on cardio machines, such as the treadmill.
An example of a HIIT routine would be to run fast for one minute and then jog or walk for two minutes. These intervals are performed for a set number of times, with the workout typically lasting 15 to 30 minutes.
HIIT workouts are supposed to be intense, so it's best to work your way up with the number of intervals you are doing. Start with five intervals, and as your fitness improves, increase workout duration and intensity.
Try Circuit Training
Circuit training is a combination of strength-training and cardio exercise, offering the best of both worlds. This makes it one of the best fat-burning workouts for women. According to a 2017 research paper featured in the journal Frontiers in Physiology, high-intensity circuit training improves body composition aka muscle-to-fat ratio while increasing overall strength.
A typical training session involves different strength-training exercises for each muscle group; you move quickly from one exercise to another, which keeps your heart rate elevated and the calories burning. Instead of resting after a strength-training circuit, you can also perform cardio exercises in between, such as jumping jacks and jump rope to ramp up your overall calorie burn.
Fat-Loss Workout Gym Plan
Now you have it — a list of the best fat-burning workouts for women. Remember that consistency is the key. Create a workout plan, clean up your diet and set clear goals. Exercise three to five times per week to fully reap the benefits.
Beware that there's no one-size-fits-all solution for weight loss. Experiment with different fat-burning exercises for women and keep your workouts diverse. Track your results and adjust your gym plan accordingly. For example, if you're having trouble losing those last few pounds, add HIIT to the mix.