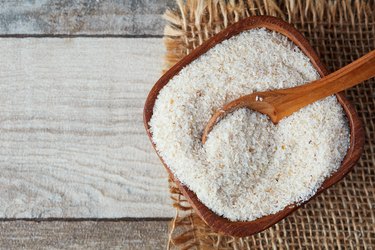 When you're rushing to the bathroom over and over again, you might be desperate for some sort of relief. Consider using psyllium husk for diarrhea, as it can help relieve symptoms by absorbing extra water in your digestive tract and slowing down digestion.
Fiber comes in two forms, insoluble and soluble, both of which can help relieve diarrhea. Psyllium husk is the latter kind, a soluble fiber that helps with diarrhea by adding bulk to the stool. It attracts water and turns to gel during digestion, according to the U.S. National Library of Medicine. Psyllium husk comes from a shrub-like herb that grows most commonly in India, notes Penn State Milton S. Hershey Medical Center.
Psyllium comes in both dry seed and husk form that can be mixed with water, as well as in capsules, tablets and wafers. Common brand names that psyllium husk is sold under, according to the U.S. National Library of Medicine, include Metamucil, Fiberall, Maalox and Reguloid.
Psyllium Husk for Diarrhea
Diarrhea occurs when you have loose or watery stools. The condition typically lasts two to three days and isn't considered serious if you drink enough fluid to replace the water you're losing via stools, says the Cleveland Clinic. However, persistent diarrhea is frustrating, inconvenient and sometimes painful. You can take psyllium fiber for diarrhea as it works to relieve the symptoms by absorbing the excess liquid in the digestive tract and slowing down digestion, which makes the stool firmer.
Psyllium husk can also be used to treat other bowel conditions, such as constipation, says Penn State Milton S. Hershey Medical Center. It might also help with symptoms of irritable bowel syndrome and irritable bowel disease, though too much psyllium could make symptoms worse for some people. Talk to your doctor before starting to take any supplement, as they can help you figure out how much fiber is best for your condition.
It's best to talk to your doctor about how much to take of a supplement, even over-the-counter varieties, particularly because psyllium supplements can reduce or delay the absorption of certain medications, according to the U.S. National Library of Medicine.
Children shouldn't be given psyllium husk unless the parent has been instructed by a health care provider, notes Penn State. Adults should follow package instructions, but generally start with a low dose — such as a half-teaspoon in an 8-ounce glass of water — and increase only if needed. Psyllium can be taken between one and three times daily. Don't take any more than that unless your doctor gives you the OK.
If you have diarrhea often, don't rely on psyllium supplements (unless it's recommended by your health care provider). Instead, focus on increasing your consumption of both soluble and insoluble fiber through your diet. Sources of soluble fiber — beyond psyllium husk — include oats, peas, beans, apples, carrots, citrus fruit and barley, according to the Mayo Clinic. Dietary sources of insoluble fiber include whole grains, nuts, beans and vegetables such as cauliflower, green beans and potatoes.