Lactulose syrup, a liquid medication used for chronic constipation, has the chemical makeup of certain sugars. This medication also comes as a powder to mix with juice. It takes at least two days for it to become effective. This medication works by drawing water into your bowels and softening the stools in the intestine. When you begin using lactulose syrup, some nonserious and common side effects may develop.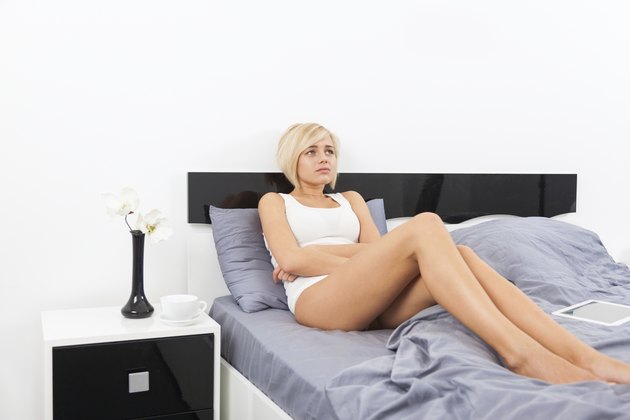 Diarrhea
You may experience liquid bowel movements if you receive too much of this medication. While the idea is to loosen your stools so you may defecate, the medication may overly affect your digestion and diarrhea may occur. You may need to use the bathroom several times during the day or night, but the side effect typically disappears as your system adjusts. Talk to your doctor if this side effect becomes bothersome.
Nausea and Vomiting
A side effect of feeling ill and sick in your stomach becomes a problem if it occurs each day. This side effect, although common, may occur as you begin taking this medication and should stop as soon as your body adjusts to lactulose. If these side effects continue after a few days, you will need to speak with your doctor for aid.
Stomach Discomfort
Stomach discomfort could occur as a result of bowel irritation from the new medicine. As your bowels move more frequently, you may feel pain in your stomach or a sense of rumbling in your stomach. This might occur when first taking lactulose, but usually lessens over time. Your abdomen may become larger than usual because it contains gas and there may be hollow sound when you tap it with your finger. As lactulose draws water into your stool, your intestines may become irritated as they get used to the medication. Bloating might occur but should lessen after a few days. Flatulence may also occur more frequently and you may have to expel gas many times during the day. If you continue to experience bloating or excess rectal gas, call your doctor for advice.
Interactions
Lactulose may interact with antacids, which you shouldn't combine with this medication unless your doctor directs you to do so. It might also combine its effect with any other laxatives you're taking, so you should discuss these with your doctor. Lactulose may interact with certain antibiotics, including neomycin, so don't take both medications together. If you have any questions or concerns about lactulose and other drugs you're taking, talk to your doctor before taking this laxative.