Maybe your boyfriend was buff when you first started dating, but he's since stopped working out. Or perhaps your significant other has always been more of a couch potato. Whatever the case, if you are concerned about your boyfriend's health and appearance, you are an important person in his life and may have a good chance of motivating him to exercise and get muscular. Work out together and you may find as your boyfriend grows stronger, so does your relationship.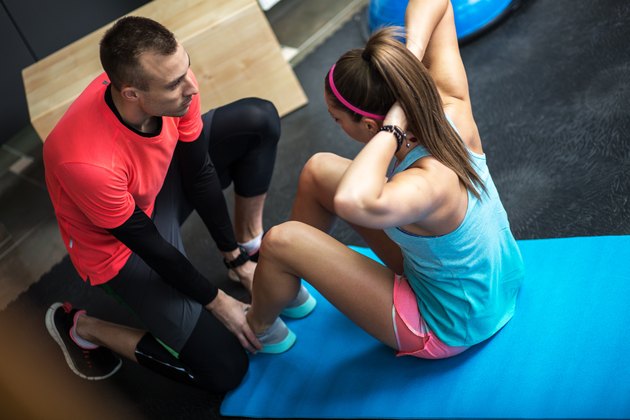 Step 1
Tell him about your own fitness goals and ask him if he will help you succeed. Explain the benefits of working out, such as improved mood, appearance and health.
Step 2
Make getting fit a joint effort. Offer to go with him to the gym. Working out with a partner can be motivating. In addition to getting buff, you may grow closer. Take turns choosing the workout, or each person can do his or her own thing.
Step 3
Start with small goals. If your boyfriend isn't used to working out, suggest going for a walk or jog before you start a running regimen.
Step 4
Purchase gifts, such as free weights, running shoes or personal training sessions. Ask him how heavy the weights should be first.
Step 5
Suggest new sports and activities. If he doesn't enjoy going to the gym, he may like snowboarding, mountain biking, rock climbing or kayaking. Learning novel activities together is also good for your relationship.
Step 6
Avoid nagging. Instead of putting your boyfriend down on the days he skips the gym, praise him when he does go.
Tip
Make sure your boyfriend is educated. Encourage him to warm-up and stretch before workouts to prevent injury.
Prepare healthy meals together as well. Your boyfriend's hard work in the gym is less likely to cause noticeable results if he doesn't follow a nutritious diet.