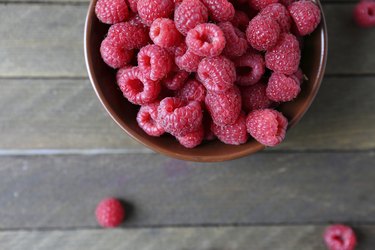 It's no secret that too much salt in your diet is bad for your health, but it may also increase your mortality. A low-sodium foods list can help you make the changes needed to reduce sodium intake and improve health and longevity.
What's the Deal With Sodium?
Sodium is an essential nutrient, which means your body can't make it and it must come from outside sources. Your body needs sodium to maintain fluid balance, move your muscles and support the function of your nervous system. However, you need less than 500 milligrams of sodium a day to maintain these functions.
According to the American Heart Association (AHA), Americans consume about 3,400 milligrams of sodium a day. To improve health, the AHA suggests you should have no more than 2,300 milligrams a day and ideally about 1,500 milligrams a day. Too much sodium in your diet may increase your risk of developing high blood pressure and heart disease.
However, those aren't the only potential health risks of consuming too much salt. According to a November 2016 review published in the Journal of the American College of Cardiology, too much sodium in your diet may also damage your organs, including your heart, blood vessels, kidneys and brain, even if you don't have high blood pressure.
Low-salt diet foods aren't only for those with high blood pressure. Everyone can benefit from reducing their daily sodium intake.
Low-Sodium Diet Chart
Most of the sodium you consume comes from food with added salt or other sodium-containing additives, such as monosodium glutamate (MSG), disodium phosphate and baking powder, notes the AHA. When creating a low-sodium foods list, the best place to start is to omit or significantly limit processed and prepackaged foods, such as frozen meals, canned soups, boxed pasta mixes, snack foods and deli meat.
To keep sodium intake low, choose more whole, fresh foods that are naturally low in sodium. Your low-sodium diet chart should include:
Fruits
Vegetables
Whole grains
Fresh meats and poultry
Dried peas and beans
Milk and yogurt
Oils and unsalted nuts and seeds
Although these foods are naturally low in sodium, some products may contain added salt, such as your packaged chicken breasts. Read food labels and stick with items that have 140 milligrams of sodium or less per serving, recommends the AHA.
Eating more fruits and whole grains and less sodium may improve longevity, according to an April 2019 global study published in Lancet. The authors of this study found that a suboptimal diet — a diet low in fruits and whole grains and high in sodium — was responsible for more deaths than any other factor, including smoking, regardless of sex, age, education, income or place of residency.
Tips for Eating Out
You may have a hard time finding low-sodium foods at restaurants, but you can always ask if there are any low-sodium items available. If not, make requests to help reduce the amount of sodium in your meal. For example, you can ask that your food be prepared without salt and that sauces are placed on the side. Also, look for items that are grilled, baked, broiled or roasted without breading and skip the fried foods and casserole dishes.
The AHA also suggests that you limit some of the popular restaurant items restaurant items that can add tons of sodium to your daily intake, including the premeal basket of bread or chips as well as soup. Pizza, tacos, burritos and sandwiches are also notoriously high in sodium and should be limited or avoided.
Is this an emergency? If you are experiencing serious medical symptoms, please see the National Library of Medicine's list of signs you need emergency medical attention or call 911.