Hidden Valley Ranch Salad Dressing mix is an American iconic food product. Many people love the creamy and mild taste of the original ranch dressing flavor, which complements salads and other foods. Now this famous salad dressing mix is sold in 17 countries around the world.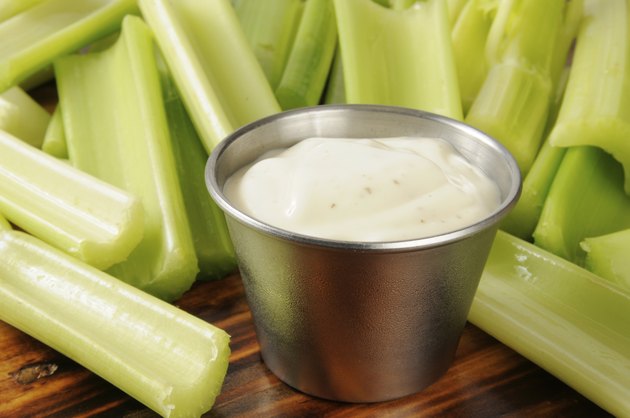 Hidden Valley History
The Hidden Valley Ranch resort in Santa Barbara, California was known for its outdoor activities and tasty homemade meals. The original Hidden Valley Ranch Salad Dressing mix was created as a gift for guests that visited the resort in the 1950s. In the 1960s, the Hidden Valley ranch owners sold the mix in local stores in southern California.
In 1970s, Hidden Valley brand became a full-fledged national brand when it was bought by the Clorox Company. Today, Hidden Valley is a global brand. Hidden Valley products include readymade salad dressings, dips, mixes and salad kits.
Hidden Valley Ranch Dressing Mix Ingredients
Because the Hidden Valley Ranch Salad Dressing mix is powdered, the ingredients are either dried or dehydrated. Main ingredients include: maltodextrin, buttermilk, salt, monosodium glutamate, dried garlic, dried onion, lactic acid, citric acid, spices and artificial flavors. Dried buttermilk adds the characteristic tang to the ranch dressing.
Nutritional Information
One 1 oz. dry Hidden Valley Ranch Salad Dressing mix makes 16 oz. of dressing. Just 1/3 tsp. of dry seasoning mix contains 5 calories, 0 g total fat,135 mg of sodium, 1 g carbs and 0 g protein.
To make the dressing, you add 8 oz. milk and 8 oz. mayonnaise. Two tablespoons of ranch dressing made with whole milk and regular mayonnaise contain 120 calories with 110 calories from fat.
Lower Fat Substitutions
To lower your intake of calories and fat, substitute low-fat or fat-free mayo for regular mayonnaise. However, this substitution may make the dressing thinner and less creamy. Some people also use low-fat yogurt, but this substitution will give the ranch dressing a more tart taste.
Recipes
Many people use the Hidden Valley Ranch Salad Dressing mix as a marinade or dip. Use the salad dressing mix as a marinade for chicken wings, whole turkey, pasta dishes, popcorn, vegetable dishes or even garlic bread. You can also combine the Hidden Valley Ranch Salad Dressing mix with sour cream to create a creamy dip, perfect for fresh vegetables or chips.
Alternative Products
If you don't want to make Hidden Valley Ranch Dressing from the mix, then you can also buy readymade Hidden Valley Ranch Salad Dressing in a bottle. The bottled Ranch dressing comes in several varieties: regular, lite, fat-free and organic.