Lifting weights builds muscle and increases metabolism, which may contribute to fat loss. For women, this may mean reduced breast size and volume. Not all women lose breast size, however, and several factors influence this, including genetics, age, the amount of body fat you have and your individual fat deposition patterns. To understand how lifting weights influences breast size, you should first understand the basics of breast anatomy and how the body burns fat.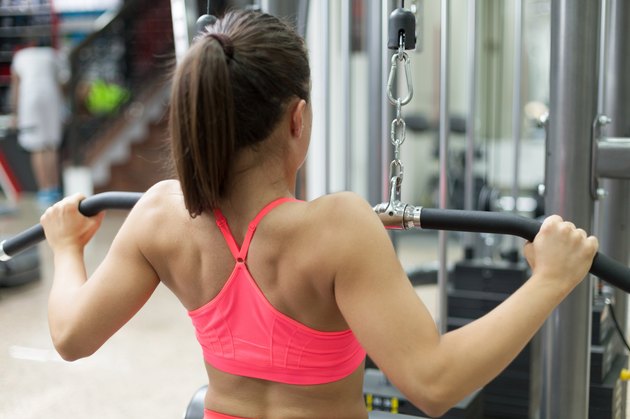 Breast Anatomy
The breasts are made up of glandular tissue, milk ducts, blood vessels, lymph nodes and fat. Differences in size are based on the amount of fat under the surface of the skin.
Body Fat
Your body uses fat to build nerve tissue; fat cells coat the nerve endings to help conduct electrical impulses. The body also uses fat to make hormones. Whatever you don't use is stored all over the body as an emergency fuel source. Where you store fat depends on your gender, genetics, the foods you consume, and your activity level. You may notice that you and others in your family tend to store more fat in specific areas — such as the stomach or hips. Women, and some men, will store excess fat in the breast area.
Burning Fat
If you lift weights, you will burn calories during the exercise session. The muscle you gain will also increase your resting metabolism so that you burn more calories, even while sitting still. If you consume fewer calories than you need, or burn more calories than you need through exercise, your body will tap into your stored fat to make up for the energy deficit. Your body will burn fat from all over your body, although areas with less fat may appear leaner faster than areas with more fat.
Weight Lifting and Breast Size
Weight lifting may cause loss of breast size because your body will access stored fat for energy. How much size you lose depends on how big your breasts are to begin with and how you deposit fat. If your breasts are very lean, you may notice a drastic loss while women with naturally larger breasts may not notice as much of a difference.