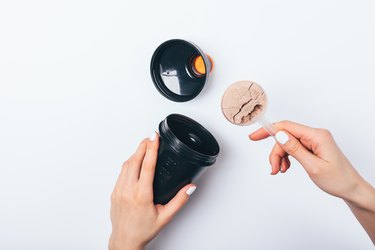 An easy-to-clean protein shaker bottle provides a healthy way to mix protein drinks on-the-go. The shaker consists of a cup or bottle with tight-sealing lid, often with a drinking spout.
The most important feature is the mixer, spokes that sit inside the shaker, or a device in the lid. The mixer helps combine protein powder — such as whey, as described by Mayo Clinic — in with liquid and break up lumps to create a smooth drink. Choose a shaker that's easy to disassemble and clean to avoid the risk of bacteria build-up in inaccessible crannies.
Tip
Read the label on protein powders. Some contain extra sugars or artificial sweeteners. If unrefrigerated protein sours in your protein shaker, wash it thoroughly with hot water and dish soap. Add 1 tablespoon of baking soda, fill it with hot water, shake it vigorously and leave it to soak overnight to remove the remaining odor. A protein shaker frees you to create an instant protein drink at work, at the gym, on the trail, at a campsite or in your car.
Step 1: Add Your Liquid
Add the desired liquid. The protein shaker usually has measurement marks on the side. For example, pour 16 ounces of water, juice, dairy milk or almond milk into the protein shaker. Add the liquid before you add the protein powder to keep the powder from clumping on the bottom of the shaker or coating the sides.
Step 2: Measure Your Powder
Measure the protein powder. Packaged protein powder comes with a scoop for measuring one serving of the powder. If you don't see the scoop, reach to the bottom of the powder. If you buy protein powder in bulk, use 2 tablespoons.
Step 3: Add Other Ingredients
Add any other ingredients. A protein shaker offers a convenient way to take powdered nutritional supplements. Check with your doctor about supplements and don't exceed recommended doses.
Step 4: Cap It and Shake
Put the lid on the shaker. Make sure it snaps in place, so that it's sealed. This prevents the lid from coming off during shaking. Shake the protein shaker vigorously up and down for a slow count of 20. The mixer breaks up the protein powder and helps mix the ingredients together.
Add Some Variety
Sweet: stevia, 100 percent juice, honey, maple syrup
Tart: fresh lemon or lime juice
Flavoring: cocoa powder, shredded ginger, flavor extracts (peppermint, vanilla, raspberry)
Other ingredients can boost the nutritional value of your smoothie as well as your energy levels. Note that you will likely need to use a hand-held mixer to combine the thicker ingredients into your smoothie.
Energy boosters: coffee/espresso, seeds (chia, hemp, flax)
Healthy fats: nut butters, avacado
Warning
Keep protein shakes refrigerated or in an insulated lunch box with a reusable ice pack to prevent spoiling. Avoid consuming excessive protein. The recommended daily allowance for adult females is 46 grams and 56 grams for adult males, according to the National Academies of Sciences. The 20 grams or more of protein common to many whey protein powders may suit a bodybuilder or an individual who requires supplementation due to poor appetite, but may be too much for a sedentary person or someone who eats protein at every meal.