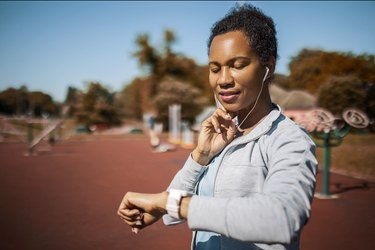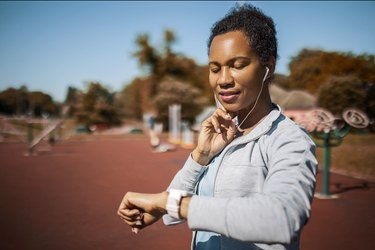 Feeling some soreness in your muscles and joints during exercise is normal, especially if you're easing back into exercise after a hiatus. But ear pain? It turns out there are several reasons why your ears might hurt when you exercise.
Here are five potential causes you might regularly or occasionally feel ear pain while working out, and how to fix it.
1. You Have Referred Muscle Pain
Pain in your ears can be "referred" from other locations, most commonly your neck or jaw, according to Alexandra Quimby, MD, a neurotology fellow in the department of otorhinolaryngology (which focuses on diseases of the ear, nose, and throat) at the University of Pennsylvania. So if you have neck or jaw pain that impacts the same nerve in your ears, you might confuse it with your ears being the pain source.
"Clenching your teeth or straining your neck muscles during exercise could lead to pain in these areas that could be felt as ear pain," she explains.
2. Your Earbuds Fit Poorly
If you use ill-fitting earbuds while working out, there's a good chance that they're the source of your pain. Earbuds that are too small can bounce around and irritate your skin with prolonged use, whereas ones that are too large can put too much pressure on your ear canal.
Fix It
In today's day and age, there are tons of workout headphone options, so you can research a few and find the best pair for you. For example, there are open-air headphones that sit over your ears that might be a better alternative if you can't find earbuds in the right size.
"Taking a break from earbuds should alleviate the pain, and switching to over-the-ear headphones may prevent it from recurring," Dr. Quimby says. "You should also always be aware to not turn the volume in your headphones too loud, which can cause hearing loss."
3. You're Working Out in the Cold
Working out when it's not hot out is a dream for many avid exercisers and endurance athletes. While it can help you stay cool during tough workouts, cold temperatures and air can potentially cause ear pain for those who are extra sensitive to it.
"In the cold, blood vessels around the ear constrict, and this can cause pain," Dr. Quimby explains. "A more severe form of this is frostbite, where the ears sustain an injury that can be irreversible from prolonged cold exposure."
Fix It
Keep your ears covered if you're going to be exercising outside in the cold for prolonged periods of time. Wear a hat, a thick headband or an earband during those crisp workouts; many brands offer a variety of stylish options made with sweat-wicking materials to also keep your ears dry.
4. You Have a Ruptured Eardrum
A ruptured eardrum is a condition that occurs when small holes or tears appear in the thin tissue that separates your ear canal from your middle ear, according to the Cleveland Clinic.
In most cases, a ruptured eardrum is not caused by exercise, but by sudden air pressure changes, loud sounds, severe head trauma, ear infection or small objects shoved into the ear. That said, exercise can worsen these issues if you have a ruptured eardrum.
This is because your ears experience higher amounts of pressure that can irritate your eardrum as your head moves around and your body's circulation increases during exercise.
Fix It
In addition to ear pain, watch out for symptoms like ringing in your ears, drainage from your ear and vertigo. While a ruptured eardrum can heal on its own, if your pain is persistent, see your doctor to rule out an ear infection or other more serious issues.
5. Your Headphone Volume Is Too Loud
Having the volume up too high in your headphones can cause hearing loss as well as tinnitus (ringing in the ears), and occasional hyperacusis, where sounds that others wouldn't normally perceive to be too loud can be perceived as excessively loud, according to Dr. Quimby.
Unsurprisingly, this can also cause ear discomfort or pain.
Fix It
Turn down the volume of your headphones to a reasonable degree that doesn't cause any ear pain. See your doctor if your ear pain persists after decreasing the sound.
Was this article helpful?
Thank you for your feedback!