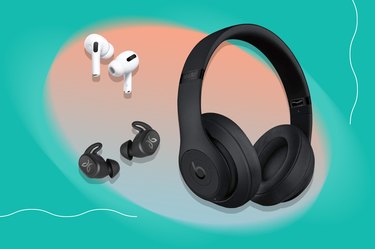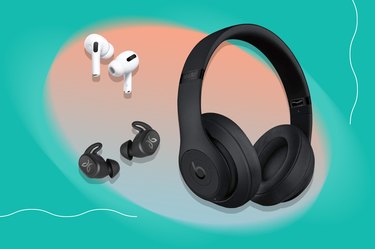 Whether you listen to your favorite playlist, podcast or audiobook while exercising, a durable pair of workout headphones is key. If your earbuds aren't designed to withstand a sweaty, high-intensity workout, they'll either cut out, lose juice or slide right out of your ears. And who wants to stop their workout to fiddle with their earbuds?
Here, we asked trainers and LIVESTRONG.com editors to share the best workout headphones they swear by and offer tips on what to look for when buying a new pair.
We chatted with personal trainers who offered product recommendations and helped us break down what to look for in the best workout headphones. We selected our products based on the following criteria. You can learn more about how we cover products here.
Sweat resistance
Noise cancelation
Fit
1. Best for Running: Bose Sport Earbuds
For those in search of a good pair of running headphones, Kelvin Gary, CPT, CEO and head coach at Body Space Fitness in New York City, recommends these Bose Sport Earbuds. They're water-resistant and made to withstand your rainiest and sweatiest runs. They also feature silicone tips that comfortably hold the earbuds in place so they won't become loose while you run.
Even better, you get about five hours of listening time per charge, and the case can add an extra two when it's fully charged — perfect for those who are marathon training.
2. Best Noise-Canceling: Apple Airpods Pro
Looking for a distraction-free workout? Then you definitely want to add the Airpod Pros to your cart, says Carolina Araujo, CPT, a California-based strength coach.
These noise-canceling earbuds allow you to manually block outside sound so you can stay focused on your workout. And when you're walking down the street, you can stay safe by switching to transparency mode, which helps keep you alert to the sounds around you.
Bojana Galic, associate fitness editor for LIVESTRONG.com, loves using these earbuds for her workouts, too.
"My AirPods go everywhere with me, including my workouts," she says. "To be totally transparent, I'm a sweater. When I go on long, hot bike rides, sweat definitely gathers under my helmet and around my hairline — a lot. But no matter what, my AirPods stay in place, even over uneven terrain."
3. Best for the Gym: Beats Fit Pro
Finding a pair of workout headphones with the least amount of moving parts is key, according to James Laurita, CPT. Ideally, you should forget you're even wearing them, which can be difficult if you have a wire tangled around your neck.
The Beats Fit Pros are as minimal as wingtip headphones get. They're not only wireless but they deliver powerful, immersive sound, thanks to its active noise-canceling mode. Plus, you get up to six hours of listening time (or 24 hours with the charging case).
4. Best Wired Headphones: Bose SoundSport
If you're someone who easily loses or forgets about their earbuds, these wired workout headphones are a good fit for you. A single cord connects the earbuds from ear to ear, but it doesn't need to be plugged into your phone to work.
Made for workouts, these headphones also have high-quality sound and are sweat-resistant. Plus, they come with different sizes of silicone tips so you can find the right one for you.
"The Bose SoundSport have been my go-to headphones for workouts for years. From running to biking to rowing and other types of exercise in between, they always stay put," says Catie Jaffe, senior manager of commerce for LIVESTRONG.com.
Jaffe finds the cord that connects the earbuds super useful in her day-to-day life outside the gym, too.
"Being able to let them rest around my neck without fear of losing them on the street or behind a machine is worth it. Also, I am a big music fan, so I pay attention to sound quality. I also own AirPod Pros, and I think the Bose sound quality is superior," she says.
5. Best for High-Intensity Training: Jaybird Vista 2
Geoff Tripp, CSCS, certified sports and conditioning specialist and head of fitness at Trainiac, is a big fan of these Jaybird headphones. These workout headphones are completely waterproof and earthproof, meaning you can accidentally drop them on the ground and walk over them, and they'll be completely fine.
As one of the lightest pairs of workout headphones, you won't even feel them on your ears, which is a must when you're blasting through burpees and box jumps.
6. Best for Fitness Tracking: Jabra Elite 7 Active
You can forego using a fitness watch because these waterproof headphones offer all of your performance-tracking needs. They sync up with the Jabra app, where you can monitor your heart rate, calorie burn, speed and much more.
7. Best Budget-Friendly: JLab Go Air True Wireless Bluetooth Earbuds
For workout headphones that won't break the bank, Tripp recommends these JLab Audio earbuds. These earbuds have about five hours of listening time per charge, and the case can hold up to 15 extra hours at a time.
These headphones also offer three different sound preferences: The JLab Signature is the best option for listening to music, while Balanced mode is ideal for following podcasts and audiobooks. Bass Boost is made for jamming out to tunes while working out.
8. Best Battery Life: Powerbeats Pro Wireless Earbuds
The Powerbeats Pros have the longest battery life on this list, with about nine hours of listening time. With the case, you get more than 24 hours when it's fully charged.
Sweat-proof and water-resistant, these versatile earbuds can be worn for a variety of sports and workouts. Each earbud allows you to adjust the volume and skip or replay tracks, so you don't need to whip out your phone.
I love that these headphones stay put no matter what kind of workout I'm doing," says NiQyira Rajhi, senior social media editor for LIVESTRONG.com. "Whether I'm doing yoga or lots of jumping and cardio, I'm never having to adjust them or worry about them slipping out. The sound quality is also really great! Hands down the best workout headphones I've had."
The best part is that they're great at canceling outside noise, according to Noam Tamir, CSCS, CEO and founder of TS Fitness in New York City.
9. Best Over-the-Ear: Beats Studio3 Wireless Noise Canceling Over-Ear Headphones
These over-the-ear Beats headphones aren't shy about letting others around you know that you don't want to be bothered while trying to PR that bench press.
"These are my favorite when I just want to focus on my workout and silence outside noise," Araujo says. "Naturally, you get a little extra sweaty with a large set of headphones on your ears but I have never had a problem with these."
And when you're not at the gym, these headphones are great for silencing outside noise for your virtual meetings or in-flight Netflix streaming.
10. Most Responsive: Adidas FWD-02 Sport In-Ear Earbuds
The controls on the headphones are super responsive, so even if you get extra damp during your workout or need to slip on a pair of running gloves, you can pause your music or change the song by simply tapping the earbuds. Their ergonomic design also ensures that they stay in place during movement.
While they provide great immersive sound, they also let in ambient noise so you stay safe during your outdoor workouts and runs.
4 Things to Look for in the Best Sweat-Proof Workout Headphones
Wireless headphones are some of the most popular on the market right now — and for good reason. They make for a totally distraction-free workout. With workout headphones, (generally) less is more, according to Tripp.
But that's not necessarily the case for everyone. For those who love to go on hikes or mountain bike rides, dropping an earbud may mean goodbye forever. In that case, a wired headphone or over-the-ear option may be a better choice.
Again, a distraction-free workout is usually preferable. So, noise-canceling headphones are a pretty safe bet. That said, it's best to look for a pair that lets in some outside noise so you can stay safe while exercising outdoors.
You also don't want to get too carried away with all the "bells and whistles," Laurita says. "It's so easy for a company to oversell technology you don't need. When looking for a new headset, keep in mind what's important and what's unnecessary."
Consider what features are the most practical for your favorite forms of exercise.
Ears come in all shapes and sizes, and you want a pair of earbuds that feel secure and comfortable while you train.
Some earbuds (like the Airpod Pros) just have a silicone tip, which fits snug inside your ear. These are great for workouts that don't involve a ton of quick movement, like walking or strength training.
But wingtips or around-the-ear hooks are the most secure. These are ideal for running or HIIT — you don't want to pause mid-workout to adjust your earbuds. Plus, these usually come with several pairs of tips, so you can find which one fits in your ear, Tripp says.
You can find a quality pair of headphones at all price points, Tripp says. "Bottom line is you will be using them a lot and sweat is tough on electronics no matter how 'sweat-proof' something is."
Laurita, who replaces his headphones twice a year, on average, agrees that the rigors of exercise can quickly take their toll on even the sturdiest electronic device, which is even more reason to buy less expensive headphones. This way you won't be upset when you have to spring for new ones.