Whether you listen to your favorite playlists, podcasts or audio books when exercising, a sturdy set of headphones is key. If your earbuds aren't designed to withstand a sweaty, high-intensity workout, they'll either short out, lose juice or slide out of your ears. And who wants to have to stop to fiddle with earbuds?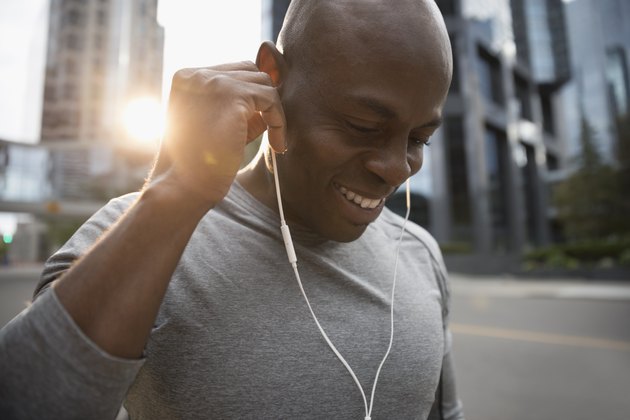 Here, experts share tips on what to look for when buying the best sweat-proof headphones as well as some of their favorite pairs.
Tips for Buying Workout Headphones
"When buying a new headset, I always read reviews from people who are going to be using them the same way I will," says certified personal trainer James Laurita. "A great headset for casual use at a coffee shop may not be the best for a long distance run in the heat."
Accordingly, the first thing to consider is what type of workout you'll be doing. Lifting at the gym? You might want a pair that'll drown out noise and help you focus on pumping iron. Going for a jog? You may prefer smaller, lightweight headphones that won't weigh you down.
"I personally find that earbuds work best for most activities that are higher impact and require a lot of movement since they don't put extra pressure on your head like bulkier headphones do," says Geoff Tripp, CSCS, certified personal trainer and head of fitness at Trainiac.
Fit matters, too. You don't want to waste time and energy readjusting a loose earbud. Fortunately, most earbuds have swappable inserts so you can get a good fit in your ear, says Tripp. "If that doesn't work, look for a pair that fit over your ear as well as insert into your ear since these tend to stay put much better."
Another helpful tip? Look for earbuds with the least amount of moving parts, says Laurita, who prefers wireless headphones. The trick is to forget you're even wearing them, which can be difficult if you have a cable bouncing around your neck or tugging the earbuds out of your ear.
But don't get distracted by "bells and whistles," says Laurita. "It's so easy for a company to oversell you technology you don't need. When looking for a new headset, keep in mind what's important and what's unnecessary." Focus on the essentials, like how much battery life the headphones have, says Tripp, who recommends brands like Jaybird, JLab Audio and Beats by Dre.
Most of all, price isn't everything. You can find a quality pair of headphones at all price points, says Tripp, who usually spends $20 to $40 for a corded headset and $40 to $80 for wireless. "Bottom line is you will be using them a lot and sweat is tough on electronics no matter how 'sweat-proof' something is."
Laurita, who replaces his headphones twice a year on average, agrees that the rigors of exercise can quickly take their toll on the sturdiest electronic device, which is even more reason to buy less expensive headphones. That way you won't be upset when you have to spring for new ones.
The Best Workout Headphones and Earbuds
Ready to shop? From the best battery life to the most budget-friendly, use this guide to help you pick the perfect pair of workout headphones that'll stand up to even your most challenging workouts.
Best Headphones for Swimming: Underwater Audio HydroActive Short-Cord Waterproof Headphones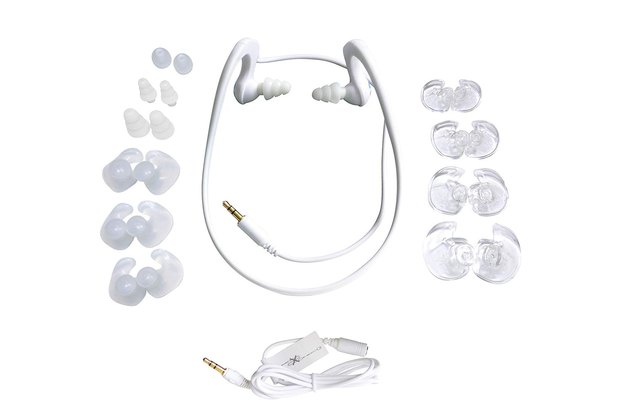 Think you can't listen to your favorite tunes when you're doing laps in the pool? Think again! Engineered for aquatic activities, this 100-percent waterproof headset features a patented design to keep water out of your ears and the sound quality crystal clear.
The wrap-around band doesn't interfere with your swim cap and creates a stable, secure fit. Plus, each pair comes with four different styles of tips — ergo, tree, fin and round — so you're guaranteed to find the best shape for your ears. At $90, these headphones are on the pricier side, but according to one satisfied Amazon reviewer, "These are the real deal… Worth every penny!!!!"
Best Headphones for the Gym: LETSCOM Bluetooth Headphones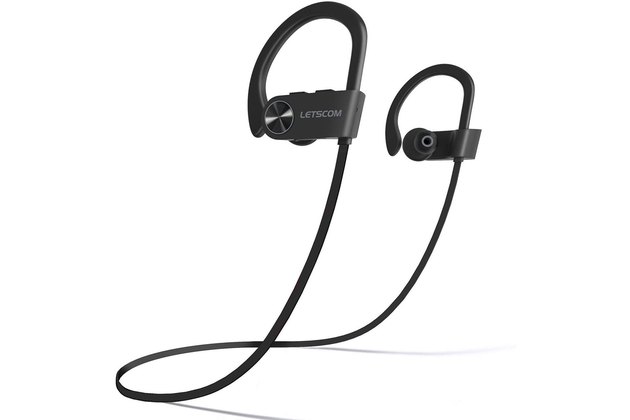 Too distracted by all the noise at the gym to focus on form? These affordable sweat-resistant, noise-canceling headphones are proof that you don't need to break the bank to find a quality product. One Amazon reviewer writes: "Noise canceling was incredible. Even at the lowest volume, I couldn't hear outside noise at all."
Best Headphones for Running: Small Target Wireless Sports Headphones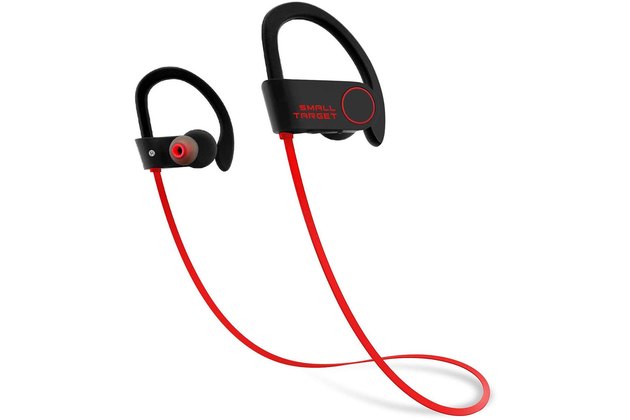 Rain or shine, these lightweight, waterproof headphones are your perfect running accessory. Ergonomically-shaped ear hooks ensure that these buds fit securely and rest comfortably in your ears.
One Amazon reviewer writes: "I love how the ear hooks stay on my ears no matter how much I move… And having the loop around my neck makes me feel like they are very secure." The neck cable comes with a clamp, so you can adjust the slack and prevent the wire from bouncing. And with nine hours of playtime, the battery won't conk out when you're in the middle of a race.
Best Corded Headphones: JLab Audio J6 Petite Metal Earbuds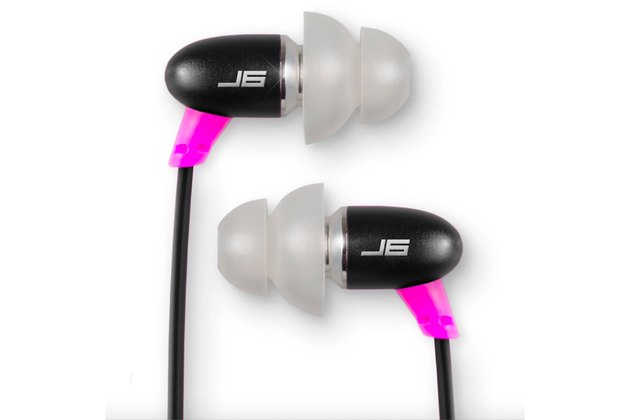 If you're not a fan of wireless headphones, Tripp recommends these corded earbuds by JLab, which come with an ergonomic design and seven cushion sizes to ensure the best fit and utmost comfort.
But the best part of these buds is the sound quality. One reviewer raves: "The bass is just right; the mid-range and highs are crystal clear. There is no distortion at all, just crisp, clear sound, even at higher volumes."
Best Headphones for Battery Life: Boltune Wireless Headphones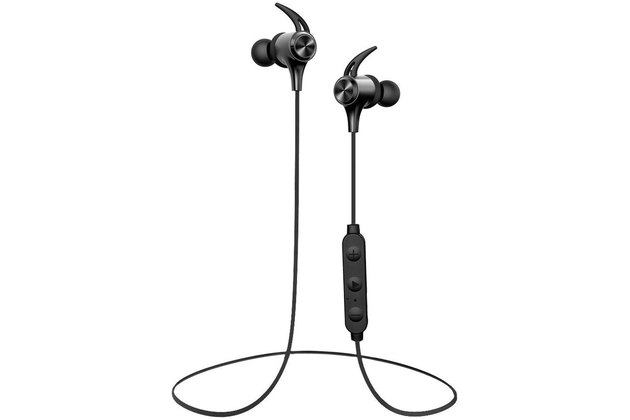 With 16 hours of continuous playtime, these long-lasting sweat-resistant headphones have the best battery for your buck, according to more than 1,300 five-start reviews on Amazon. Just a five-minute charge gives you two hours of use.
What's more, these earbuds are ergonomically designed for a comfortable, secure fit, so you don't have to worry about them coming loose. "They stay in really well, even when doing jumping jacks, shaking your head and running around," writes one Amazon reviewer.
Best Budget-Friendly Headphones: Letsfit Wireless Headphones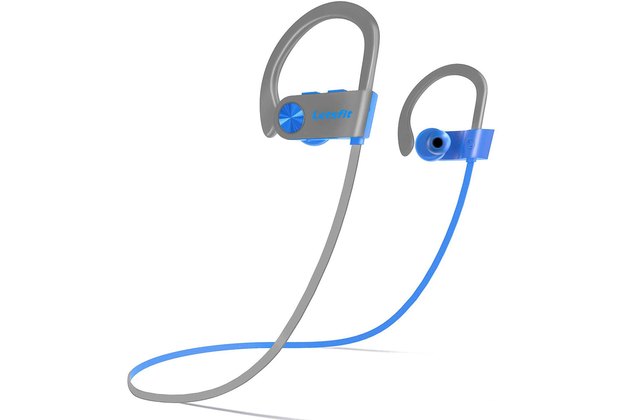 For less than $20, this headset has all the essentials — waterproof nano-coating to resist sweat and weather, noise-canceling tech, eight hours of battery life and HD stereo sound. No wonder they're a fan favorite with nearly 1,500 five-star reviews on Amazon.