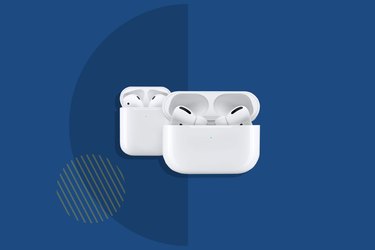 Now that most of us are working out in our living rooms (or even building pull-up bars in the backyard, like myself), every added bit of motivation is essential. And a spot-on workout playlist can definitely give you an energy boost.
But for those living in a shared space or an apartment complex with thin walls, you can't listen to music without a pair of headphones — and the buds you buy matter. After all, an awesome workout playlist deserves the best slip-free sound quality.
Have a product in mind? I'd bet it's a crisp, white pair of Apple AirPods. And if you haven't made the investment yet, there's no time like Black Friday — because, let's face it, AirPods don't go on sale all that often.
Usually $199.99, these must-have earbuds are going to be $50 off, on sale for $149.99 at Best Buy. Right now, the company is even offering an extended holiday return period that runs through January 16. Plus, you can purchase discounted AppleCare+ insurance if you want extra protection.
While this discount is pretty great, $150 is still an investment. So what makes these so great? Throughout a grueling 45-minute burpee/chin-up/box-jump workout, I was able to listen to my favorite Eminem playlist (yes, I have several) with zero earbud readjustments.
As someone who considers music a workout must-have, sound quality is a big deal for me. There's nothing more motivating than a heavy bass line to amp me up for a deadlift. Although over-the-ear headphones take the trophy for sound quality, they're not usually workout-friendly. The Apple AirPods are the perfect middle ground: The sound quality rivals studio-style headphones, while providing cordless convenience.
If you're struggling to stay focused during your workout, the AirPods just might do the trick. They'll cancel noise around you, and they have a 5-hour battery life (though you hopefully won't be working out that long on the regular). They even have built-in voice assistance so you can order your post-workout meal without putting your dumbbells down.
Not convinced yet? On the Best Buy website, the AirPods have more than 8,000 five-star reviews. On Amazon, they have more than 27,000 five-star ratings.
And while you can certainly wait until the calendar hits Black Friday, why not snatch up a pair of AirPods right now, since Best Buy's sale is already underway?