Inflammation is part of the body's immune response. Acute or short-term inflammation can help your body heal from things like a sports injury or infection, but chronic inflammation may be related to the development of diseases like cancer or heart disease. Stress, environmental factors and diet can all play a role in inflammation. The Academy of Nutrition and Dietetics notes there is some evidence that certain foods, including some types of breads, can suppress inflammation.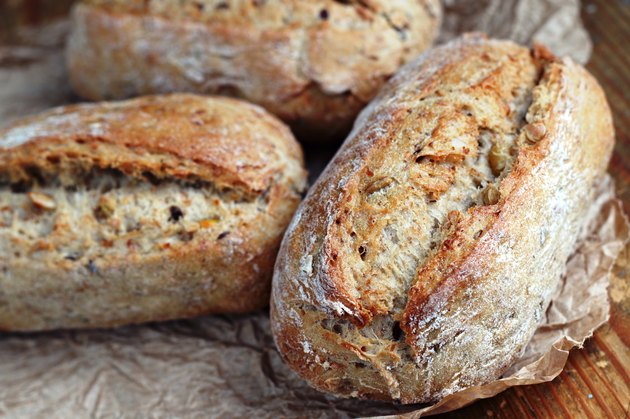 Inflammation Reducers
The Academy of Nutrition and Dietetics recommends following a whole-foods diet that's rich in fruits, vegetables, whole grains and healthy fats to help boost antioxidants and reduce inflammation. When choosing bread as part of an anti-inflammatory diet, look for one made with these ingredients, including 100 percent whole-grain flours; omega-3-rich walnuts, flax, chia or hemp seeds; and unsaturated fats like olive oil.
Packaged Bread
Dark-colored or multigrain breads aren't always made from healthier whole grains, so it's important to check the food label and look for the words "100 percent whole grain" on the ingredient label or the "whole grain" stamp on the packaging. A food's ingredients are listed by weight, so also check to see if added ingredients like sunflower, pumpkin or flaxseeds, which are high in healthy fats, are near the top of the ingredients list.
Homemade Bread
Making your own bread is the best way to ensure you're getting a healthy product that's full of inflammation-fighting ingredients. Start with a whole-grain flour like whole wheat, oat or buckwheat, and add healthy fats from chopped nuts, seeds and olive oil. Mixing in dried fruits like raisins, cranberries or cherries, or vegetables like sundried tomatoes or roasted red peppers adds an extra antioxidant boost. Adding herbs and spices not only enhances the flavor, but may also add to the bread's anti-inflammatory properties.
Ingredients to Avoid
According to the Arthritis Foundation, certain foods or ingredients that may be found in bread can cause inflammation and should be avoided. Check the ingredients label to make sure your bread doesn't contain sugar or corn syrup, partially hydrogenated oil, refined white flour or artificial sweetener. For some people, a wheat allergy or sensitivity to gluten can also trigger inflammation. In this case, any breads should be wheat- or gluten-free. Working with a registered dietitian is the best way to identify potential food-related inflammation and receive suggestions for alternative products.