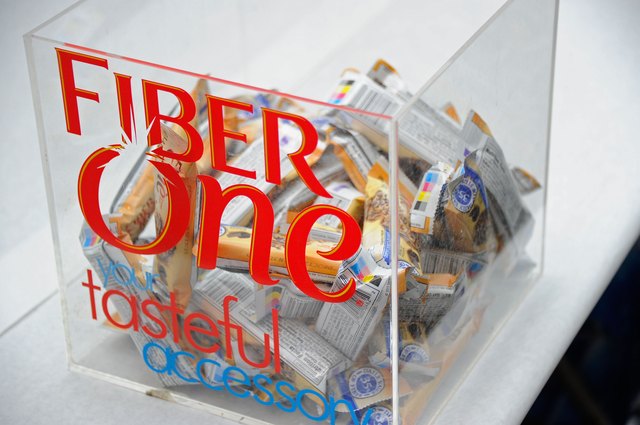 Fiber One bars contain minerals and nutrients needed by the body for health and wellness. Fiber One makes five varieties to appeal to different tastes: oats with chocolate, peanut butter, caramel, strawberry and chocolate mocha. These bars are not to be eaten in place of a meal, but rather as a snack option. In addition, fiber should be obtained from a variety of foods, including fruits and vegetables.
Fiber for Digestion
Fiber is essential for the human body and needs to be consumed in the daily diet. Fiber One bars contain 9 g of fiber. The recommended daily allowance, RDA, of fiber is 38 g for adult men and 25 g for adult women. Fiber ensures the health and wellness of the digestive system. In the colon, fiber pulls in fluid to enable easy passage of stool, which allows you to have normal bowel movements and reduces your risk for constipation.
Fiber and Cholesterol
Cholesterol levels can be decreased with the intake of fiber. The fiber in Fiber One bars comes from oats. Specifically, a diet that includes fiber from oats helps lower cholesterol. When the low-density lipoprotein, or LDL, cholesterol, also known as the "bad" cholesterol, is elevated, plaque may develop along the artery walls. This condition is called atherosclerosis, which is a form of heart disease.
Weight Loss
Fiber can create a feeling fullness. Fiber takes a longer time to chew and ingest because of its texture. For example, Fiber One bars are chewy and therefore require chewing time. This gives your stomach time to send a signal to your brain that you are full. When you are full, you are less likely to overeat.
Calcium Nutrition
In addition to fiber, Fiber One bars contain 10 percent of your daily value of calcium. Calcium is the most abundant mineral in the body. It is needed by tissues, bones and teeth to maintain integrity and strength. Without proper intake of calcium every day, your bones, for instance, will become brittle and be prone to fractures. Over time, the bone density decreases and becomes porous, a condition known as osteoporosis.
The Downside
Fiber One bars contain added sugars. These sugars are added during processing. Sugars are popular in the processed food industry because they add taste, color and bulk. However, they are not accompanied by vitamins and minerals like natural sugars, found in fruits and vegetables. Added sugars contribute to weight gain, tooth decay and overall poor nutrition.