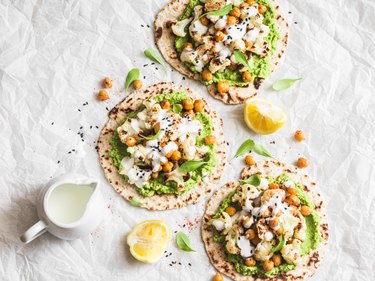 It is no secret that people following a vegetarian diet need to get their protein, too. But you certainly don't need to rely on meat to make sure you're getting your daily dose.
While protein is usually associated with meat, the macro can also be found in vegetarian-friendly foods, including dairy products, legumes, nuts and seeds. So, if you've nixed meat from your daily diet, get some extra protein with these five dietitian-approved high-protein vegetarian snacks.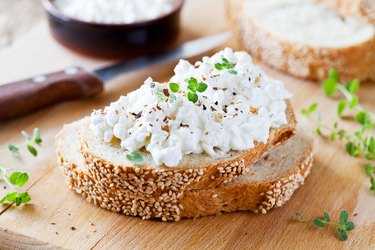 ​Calories:​ 104 calories per cup
​Protein:​ 15 grams per cup
Alongside its high protein content, cottage cheese is a great source of calcium. Per cup, this snack will provide about 10 percent of your daily recommended calcium intake, according to the USDA. In addition to its bone-health-boosting benefits, calcium is also necessary to keep your heart, muscles and nerves functioning properly, according to the Mayo Clinic.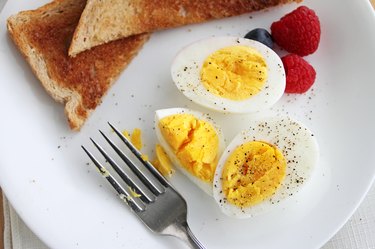 ​Calories:​ 78 calories per egg
​Protein:​ 6.3 grams per egg
"I like to sprinkle a little bit of Trader Joe's everything bagel seasoning on the eggs or simply a sprinkle of sea salt," Largeman-Roth says. "I'll have two hard-boiled eggs in the afternoon when my energy is flagging or pair one with an apple or orange."
Largeman-Roth also loves eggs for their choline content. Choline helps keep your brain functioning properly, especially where your mood, memory and nervous system are concerned, she says.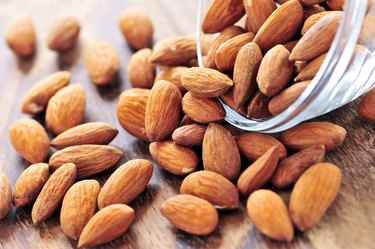 ​Calories:​ 164 calories per ounce (about 24 almonds)
​Protein:​ 6 grams per ounce
Almonds are also an excellent source of vitamin E, packing about 49 percent of your daily recommended value per ounce, according to the USDA. With its antioxidant properties, vitamin E is linked to helping protect against the effects of free radical damage, per the Mayo Clinic.
Tip
Get the benefits of almonds by trying almond butter, another great high-protein vegetarian snack. Keep in mind that, like almonds, almond butter is calorie-dense, so you'll want to stick to the recommended portion sizes.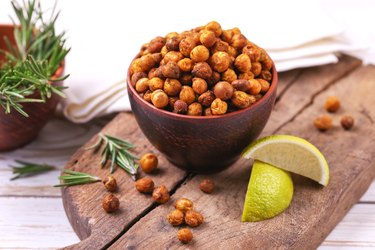 ​Calories:​ 120 calories per ounce
​Protein:​ 6 grams per ounce
While you can buy pre-packaged roasted chickpeas, you can also DIY with a can of garbanzo beans, Taub-Dix says. All you have to do is drain the can, season, add a touch of vegetable oil (she recommends avocado oil) and roast in the oven — or try this Roasted Chickpeas recipe here.
This snack is also a good source of fiber, providing about 5 grams per serving, according to the USDA. Fiber will help keep your blood sugar levels stable and keep you full for longer.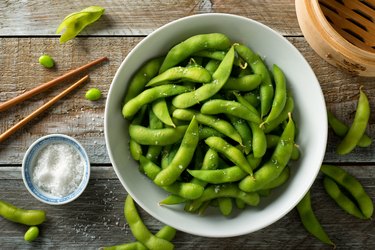 ​Calories:​ 188 calories per cup
​Protein:​ 18.5 grams per cup
Edamame is an easy, quick snack you can make for your entire family (or enjoy by yourself). Plus, you can even find them shelled, making these beans super simple to eat on the go — just add a sprinkle of sea salt, Largeman-Roth suggests.
High in protein and fiber, edamame is also a great source of magnesium, providing about 24 percent of the daily recommended value, according to the USDA. Your body relies on magnesium to help keep your muscles and nerves functioning properly, per the National Institutes of Health.
High-Protein Snack Recipes
For even more variety, try some of these high-protein vegetarian snack ideas: