Whether you're making a dash for it or going the distance, your best running speed needs to outrank your competitors' if you want to win the race. It seems like some people are just born to run, and their genetic makeup gives them a competitive edge. But training is a critical component that can decide the difference between winning, placing or bringing up the rear.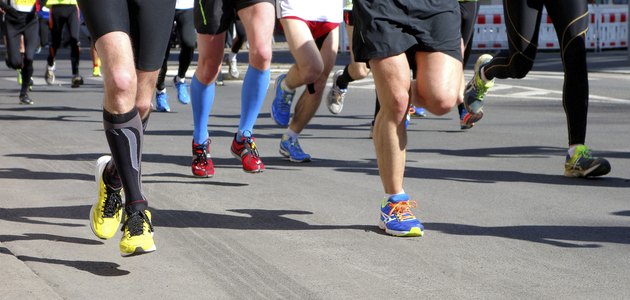 Face the Factors
Many physiological factors contribute to peak running performance. Put simplistically, speed is a function of stride length and stride frequency. People with longer legs typically have a longer stride. Sports specialist Michael Young of the United States Military Academy explains in a paper written with Human Performance Consulting that increasing either stride length or frequency will result in faster running speed, but the two share an inverse relationship. When one improves, the other is compromised. In addition to stride, cardiorespiratory fitness, muscle mechanics, economy of movement and training status impact your running performance.
In the Long Run
Endurance running requires peak cardiorespiratory fitness, but running economy plays a critical role in sparing energy and reducing oxygen demand. A 2006 study of young endurance athletes published in the "International Journal of Sports Medicine" attributed up to 90 percent of a distance athlete's maximum running speed to stride length, and found that running economy is strongly related to performance. Good running economy is characterized by short ground contact time coupled with fast force production of the muscles, and is measured in terms of oxygen consumption during continuous aerobic running. Good running economy uses less energy and therefore less oxygen than poor running economy at the same speed. Your running economy can be improved through training that corrects faulty body mechanics. A running coach can help you identify and tweak areas that need improvement.
In the Short Run
Sprinting is defined by relatively short distances run at all-out speeds. Unlike endurance running, sprinting speed is not dependent on cardiorespiratory fitness because it relies on anaerobic energy. Instead, sprinting speed is determined by the muscle mechanics that govern stride length and frequency. A 2011 study published in the "Journal of Biomechanics" found muscle strength to be a limiting factor in overcoming inertia and achieving maximal speed. Young agrees that a training program geared toward "developing strength, power, and elasticity in the gluteal, quadriceps and hamstring" muscles, along with strong core muscles, will enhance sprint speed. He also points to improvements in posture and body mechanics as key to obtaining optimal speeds.
Training Isn't Everything
Even if you are gifted with exceptional genes and train like a running machine, poor lifestyle practices can keep you from achieving your best running speed. Poor nutrition that gives you empty calories devoid of essential nutrients can really slow you down. Failing to hydrate with pure fresh water will rob your body of the fluids it needs for optimal performance. Inadequate rest and poor sleep habits can take critical seconds or even minutes off your best time. Whole fresh foods, plenty of water, and adequate rest and recovery are key to reaching your peak.