Vitamin B12 plays an integral part in red blood cell production. Red blood cells carry oxygen throughout the body, so either a decreased number of red blood cells or a lack of hemoglobin, the oxygen-carrying part of the cell, can cause anemia. Abnormally shaped red blood cells that don't carry enough hemoglobin also cause anemia. B12- and iron-deficiency anemia are different problems, although they can occur at the same time. Iron-deficiency anemia is the most common type of anemia, according to the 2005 "Lippincott Manual of Nursing Practice Handbook."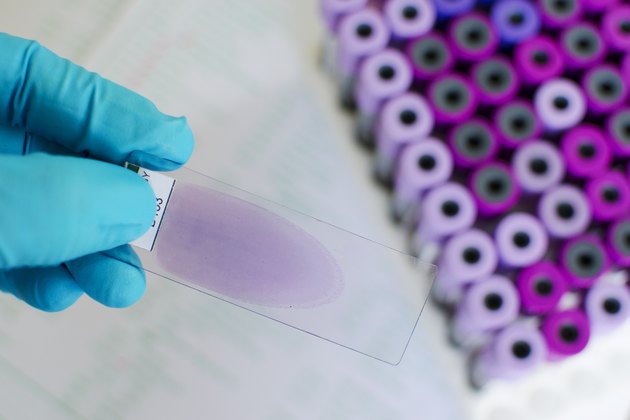 Causes
Vitamin B12-deficiency anemia occurs when you don't take in enough vitamin B12. A dietary lack of foods high in this vitamin, an inability to absorb it from the intestine or stomach damage that decreases the production of intrinsic factor, which is necessary for vitamin B12 absorption, can all lead to decreased intake. Anemia caused by low intrinsic factor production is called pernicious anemia.
Iron-deficiency anemia, like the name suggests, is caused by a lack of iron in the diet or by poor absorption of iron. Excessive blood loss can also cause iron-deficiency anemia.
Connection
Foods high in vitamin B12 are also high in iron, so if you don't eat enough of these foods, which include all types of meat, you can develop both types of anemia. Meats are also the best source of heme iron, the best-absorbed type of iron. Vegetarians who eat no meat, eggs or fish and who get all their iron from plant sources may develop both types of anemia. Weight-loss surgery, which decreases the area of stomach and small intestine available for nutrient absorption, can also cause vitamin B12- and iron-deficiency anemia. Use of antacids can affect vitamin B12 absorption, because stomach acid is necessary to break down the vitamin so that it can be absorbed. Use of calcium-based antacids also affects iron absorption, because calcium binds to iron and removes it rather than allowing it to be absorbed.
Treatments
Vitamin B12 and iron supplements are both routinely prescribed after weight-loss surgery to prevent both types of anemia. Vitamin B12 is given via a nonoral route, either by injection or as a sublingual pill, which allows medications to be absorbed directly under the tongue. Iron can also be given as an injection. Treating vitamin B12 deficiency will not resolve iron deficiency unless the treatment is to eat more foods high in heme iron.
Prevention
In both vitamin B12- and iron-deficiency anemia, preventing the disorder is better than treating it. People with known risk factors such as a strict vegan diet or history of gastric bypass surgery for either type of anemia should take supplements after discussing the proper dosage with their physician. The recommended dose may be higher than what you find in a typical vitamin supplement. However, an overdose of iron or vitamin B12 can be dangerous; do not adjust your dosage without your doctor's input. Iron overdose can be fatal.