Vitamin B-12 is one of several B-vitamins available as an individual supplement or blended with other vitamins as a B-vitamin complex. Many types of B-12 are available over the counter in pills, chewable tablets or other forms. In cases of deficiency, your doctor may administer B-12 as an injection or intravenous fluid, or IV. You should get adequate B-12 from your diet through meat, eggs, seafood and dairy, but in some cases, you may need to take a supplement. If you do not eat any animal products, ask your health-care provider about supplementation. If for any reason you decide to take a dietary supplement on your own, let your physician know ahead of time, as a precautionary measure.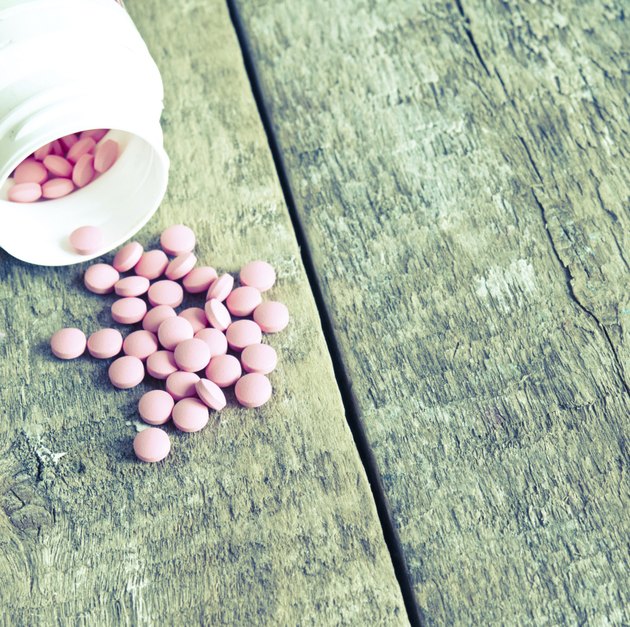 Function of B-12
Vitamin B-12 is a water-soluble vitamin, but it is unique in that it is the only one that stays in your body for awhile. Your liver maintains adequate B-12 levels, so having a deficiency is not common. B-12 is essential for normal red-blood-cell production, keeping your neurological system working properly and synthesizing genetic material, or DNA. This important B-vitamin also aids in fat and protein metabolism from the foods you eat. In order to fully absorb B-12, it has to bind with intrinsic factor, a type of protein, found in your stomach. Poor absorption of B-12, leading to a deficiency, may stem from an inability to produce adequate intrinsic factor. If your physician determines you have a B-12 deficiency, he may suggest oral treatments or give you a B-12 shot.
Vitamin Pills
Vitamin B-12 has a complex structure and attaches to a mineral called cobalt to support normal functions. In this combination state, B-12 is a cobalamin compound, of which, methylcobalamin and 5-deoxyadenosyl cobalamin have the highest amount of biological activity in your body. Most B-12 supplements are in the form of cyanocobalamin, which is one of the best forms since it readily converts into methylcobalamin and 5-deoxyadenosyl cobalamin.
Absorption
Over-the-counter B-12 supplements absorb well in your system, but you can only absorb a certain amount. Your body uses right around 56 percent of an oral 1 mcg tablet, according to the Office of Dietary Supplements. Absorption decreases as you exceed the intrinsic factor's capacity, which is between 1 to 2 mcg of B-12 at a time. Splitting up your supplements into two or three equal doses may help you absorb more B-12.
Injections
Having pernicious anemia leads to a destruction of cells in the lining of your stomach. You may not be producing adequate intrinsic factor, meaning that you are unable to fully digest and absorb B-12. Vitamin B-12 injections are one of the best supplements to get the vitamin into your system, since it goes right into your bloodstream, without undergoing any type of digestion. Your doctor may give you as much as 1 mg, or 1,000 mcg, of B-12 through monthly intramuscular injections to treat pernicious anemia, says the Linus Pauling Institute.