Your cells require glucose, a simple sugar, to keep your heart beating, your muscles pumping, and otherwise support everything your body does. You obtain glucose from the carbohydrates you eat; even complex carbohydrates can be broken down to simple sugars. The normal range of blood glucose for women depends on how much she ate and when. High blood sugar can be harmful to your health by stressing your kidneys and nervous system, and is used to diagnose diabetes mellitus. Health care providers use a variety of laboratory tests to check blood sugar levels, some that require fasting for up to 12 hours before the blood is drawn. Blood glucose levels that are too high suggest insufficient insulin production, reduced insulin sensitivity, or a combination of the two.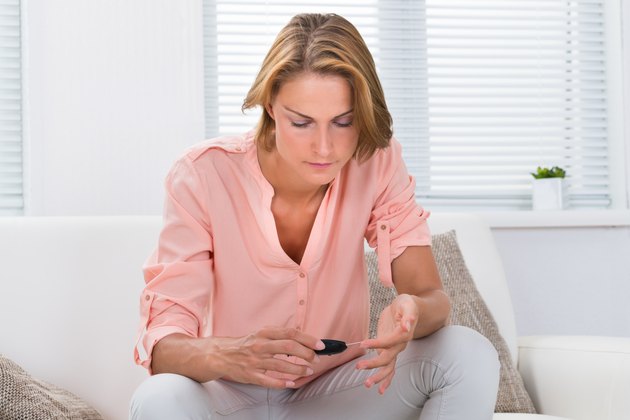 Sugar Metabolism
Your cells need glucose to make the energy that keeps your heart beating and your muscles warm. Your cells require insulin, a hormone secreted by your pancreas, to help move glucose from your bloodstream across the cell membrane. Abnormally high blood sugar, also known as hyperglycemia, may indicate that the pancreas is not producing enough insulin, your cells are not sensitive to insulin, or a combination of the two.
Fasting Blood Glucose Levels
The most common test for blood sugar is the fasting plasma or blood glucose test, or FBG. For an accurate reading, it is necessary to fast starting at midnight the day that your blood is drawn. A normal fasting blood glucose level for women is the same as that for a man, ranging from 60 to 110 mg/dL. A person with a fasting blood glucose level of 115 to 125 mg/dL may have a condition known as impaired fasting glucose or "prediabetes." A fasting blood glucose level of 126 mg/dL or greater on at least two occasions diagnoses diabetes mellitus.
Casual Blood Glucose Test
Health care providers can also assess the ability of your body to metabolize sugar casually, using a random blood glucose test. A normal casual blood glucose level is less than 200 mg/dL. A casual blood glucose level above 200 mg/dL suggests that you have too much circulating blood sugar.
Testing Frequency
The US National Institute of Health recommends every adult man and woman over the age of 45 years, and those at-risk for diabetes mellitus of all ages, take a preventative approach and get screened at regular intervals. The NIH recommends adults get tested once every three years. Those people who are obese, have a family history of diabetes, or are otherwise high-risk for the disease should get tested earlier and more frequently.