When eating out, it can be difficult to determine just which dishes and appetizers are the most nutritious options. Starting your meal off with a soup, such as hot and sour soup if you are at a Chinese restaurant, can help fill you up on fewer calories so you eat less during your meal. Broth-based soups are among the more nutritious options, although they tend to be high in sodium.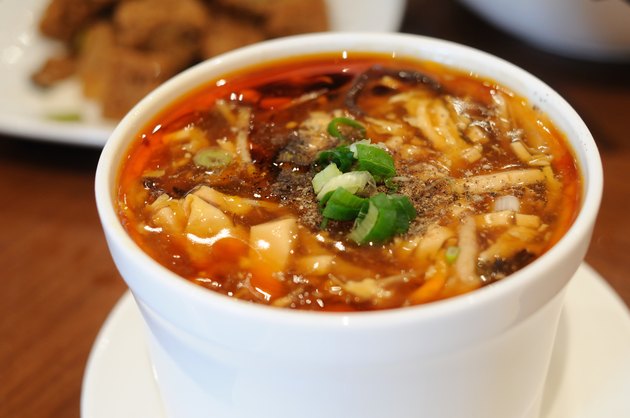 Calorie Content and Composition
Each cup of hot and sour soup contains about 91 calories, although this may vary a bit based on the recipe that is used. This serving contains 6 grams of protein, 10 grams of carbohydrates and almost 3 grams of fat, including only 0.5 grams of unhealthy saturated fat. This is 4 percent of the daily value for fat and 3 percent of the DV for saturated fat, so hot and sour soup is a relatively low-fat appetizer option.
Sodium Situation
The main drawback to starting your meal off with hot and sour soup is that it is so high in sodium. Each cup contains 876 milligrams, or 37 percent of the DV for sodium. Consuming too much sodium, as most Americans do, may lead to high blood pressure and an increase risk for heart disease and stroke. If you start your meal with hot and sour soup, opt for lower-sodium options for the rest of your meal and the rest of the day to stay within the recommended sodium limit of 2,300-milligrams per day for healthy people or 1,500 milligrams per day for those at increased risk for high blood pressure. Dishes that are lightly stir-fried and consist of mainly vegetables are among the better options, especially if you limit the sauce you consume as much as possible.
Manganese and Other Micronutrients
The main micronutrient provided by hot and sour soup is manganese, with 10 percent of the DV for this mineral, which is essential for antioxidant function, wound healing, bone development and metabolism. This soup also contains at least 5 percent of the DV for many other essential nutrients, including folate, niacin, pantothenic acid, vitamin B-6, phosphorus, iron and magnesium.
Comparisons and Considerations
Other soups, including wonton soup and egg drop soup, are also relatively nutritious options when ordering Chinese food. These soups contain about the same amount of sodium as hot and sour soup but fewer calories, with 71 calories per cup of wonton soup and 65 calories per cup of egg drop soup, and a lower vitamin and mineral content. Egg drop soup, however, does provide more vitamin C, with 26 percent of the DV. All of these soups are better appetizer choices than many of the other typical options available at Chinese restaurants, including egg rolls, spare ribs, fried wontons, crab rangoon and fried chicken wings.