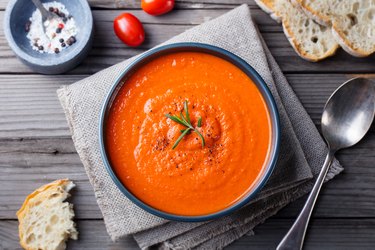 Cold soups aren't just for summer days. They're a great way to sneak in veggies while saving you some time. Simply chop, blend and serve — you'll be amazed by the flavor, satisfaction and nourishment a cold soup can provide.
Ready to try some delicious cold soup combos? Read on for some fresh ways build a more plant-based diet — no cooking required!
1. Avocado Soup With Shrimp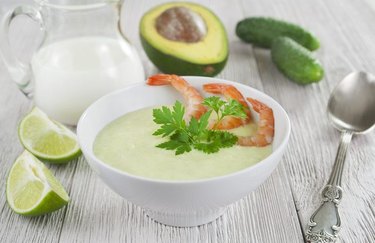 Avocado contains heart-healthy unsaturated fats. But did you know that it's a good source of fiber, too? Prepared with one medium avocado, this soup provides a hefty 10 grams of dietary fiber. Fiber supports healthy digestion and blood sugar control.
Topped with chilled, cooked shrimp, this fiber-rich avocado soup packs in 24 grams of protein to keep you well-fueled and satisfied.
2. Zucchini Basil and Bell Pepper Soup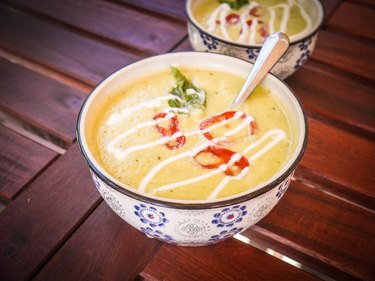 "Cold soups are a great choice for staying hydrated and increasing the way vegetables and fruits can be enjoyed," says Melanie Wong, RDN. And this soup is no exception.
This soup blends in garlic, onion, rosemary and basil with the sweetness of bell pepper to get its flavorful balance as well as zucchini for extra vitamins. Plus, it's made with Roli Roti Butcher's Chicken Bone Broth, which provides 12 grams of satiating protein per serving in it's slow-roasted, cooled and preservative-free base.
3. Hearty Gazpacho Bowl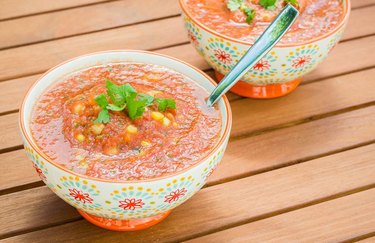 This tomato-rich soup is full of antioxidant potential, but that's not all. It takes gazpacho to a whole new level with the addition of plant-based carbohydrates.
"Tomatoes contain the beneficial plant nutrient called lycopene," according to Jean LaMantia, RD. "This compound is responsible for the red color of the tomato (as well as watermelon, strawberries and other red fruits and vegetables) and has been linked to protecting us from cancer with particular defense against prostate cancer."
Chickpeas and corn add the benefit of fiber, B vitamins and complex carbs, making this gazpacho a truly well-balanced meal.
4. Avocado and Cucumber Gazpacho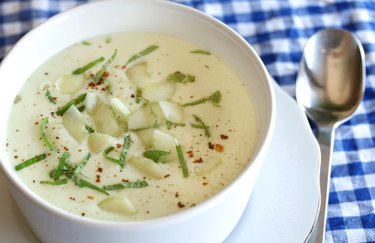 Onions and garlic add just the right balance to this light and refreshing cold soup. We're talking flavor and nutrition, too!
"Onions and garlic pack a nutritional nudge of anti-cancer compounds which include quercetin and organosulfur compounds like allicin, alliin and allyl sulfides," according to Cheryl Mussatto, RD and author of The Nourished Brain and The Prediabetes Action Plan and Cookbook. "These hard-to-pronounce compounds are what give onions and garlic their characteristic smell, taste and power in reducing various chronic disease."
At just 94 calories per serving, this gazpacho would be perfect before your next fish course or as a refresher between meals.