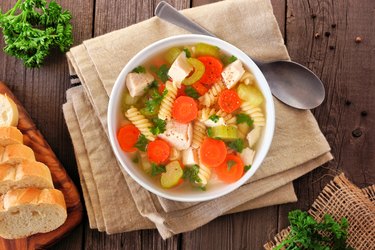 Few things are more satisfying than a bowl of warm chicken noodle soup on a cold winter night. Curling up with a bowl might sound tempting, but standing in the kitchen for at least an hour to make it might not — which is when pre-cooked rotisserie chicken comes in handy.
Using pre-cooked chicken is one meal-prep hack I've learned to take advantage of, especially for recipes like chicken noodle soup. When you don't have to worry about having cooked chicken on hand, it takes some of the headache out of prepping soup — which means you get to enjoy your nutrient-rich dinner much sooner.
You can find cooked rotisserie chicken at your local supermarket or grocery store, but you can use any pre-cooked chicken in this chicken noodle soup recipe.
Things You'll Need
Large stockpot

Cooking spoon

Soup ladle

Rotisserie chicken, cut into pieces with bones, or 4 cups shredded

2 cups cooked egg noodles

1 tablespoon olive oil (or other preferred cooking oil)

1 large onion, chopped

4 cloves garlic, crushed or minced

2 celery stalks, cut into 1/2-inch pieces

2 carrots, peeled and cut into 1/2-inch pieces

1 teaspoon poultry seasoning or Italian seasoning

8 to 10 cups low-sodium chicken or vegetable broth

1 1/2 teaspoons fine sea salt (more or less to taste)

1 tablespoon fresh ginger, grated (optional)

Black pepper (optional, to taste)
In a large stockpot, heat your olive oil over medium heat. Add your onion and cook for 5 minutes, until translucent. Add the crushed garlic and cook for another minute or two.
Add in the celery, carrots and poultry or Italian seasoning. Stir to combine until the veggies are coated and cover the pot. Reduce the heat to low and steam the veggies for about 5 minutes until they're slightly softened.
Add in your broth and bring the soup to a boil, then add in the chicken and let it come to a simmer and cover again.
Allow the soup to cook for another 10 minutes. In the meantime, cook your egg noodles according to the package directions, drain and set aside.
Remove the soup from the heat and allow it to cool slightly before ladling into a bowl for serving. Add your noodles to the bowls before serving to prevent them from getting soggy.
Tips for Cooking Chicken Noodle Soup
You can cut your rotisserie chicken into eight pieces (including the bones) in your soup, or use your fingers to separate the meat from the bones and shred it. This part is really about your preference! We'd suggest removing the skin, as it can get soggy and adds fat to the meal.
Fresh herbs make a great addition to this chicken noodle soup recipe. You can include fresh dill (a classic chicken noodle soup ingredient), or garnish yours with freshly chopped parsley or cilantro.
This chicken noodle soup is a great meal-prep option because it's perfect for storing in the fridge or freezer. If you're storing your chicken noodle soup, keep the noodles separate to prevent them from breaking down. Chicken noodle soup can stay fresh in an airtight container in the fridge for 3 to 4 days, or in the freezer for up to three months, according to the USDA.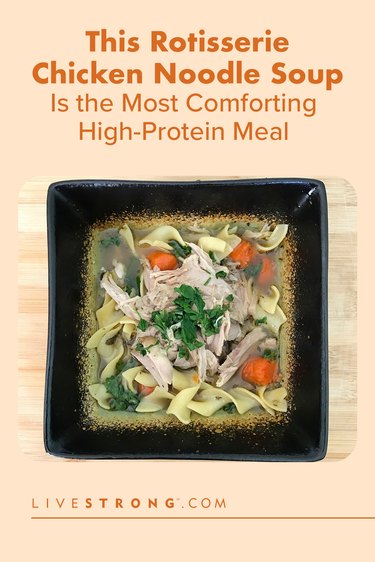 Was this article helpful?
Thank you for your feedback!