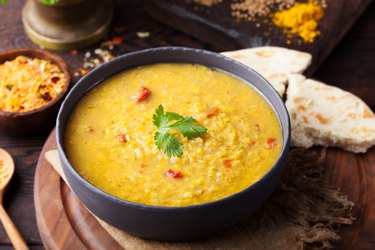 On the chilliest of winter days, nothing warms you up from the inside out like a bowl of hot soup. Lentil soup, in particular, is not only full of plant-based protein, but it comes together quickly and makes a deliciously soothing weeknight dinner.
Lentils are a staple food in so many cultures, and for good reason. "These vibrant legumes add a slightly nutty, sweet earthiness to macro bowls, salads, soups and stews," says Lauren O'Connor, RDN, author of ‌28-Day Mediterranean Diet Heart-Healthy Solution‌. "They are mildly flavored and pair well with fresh herbs and bold spices, making them a perfect addition to plant-based cuisines."
If you're trying a new eating style like the Mediterranean diet, cooking up a pot of red lentil soup may be just what the doctor ordered. "As a plant food that is both versatile and accessible, red lentils fit easily into a Mediterranean diet," O'Connor says. "They are low in sodium and saturated fats, and a good source of plant protein, dietary fiber and potassium, making them a heart-smart choice for managing blood pressure and cholesterol."
Whether you're trying out a Mediterranean diet or you're just looking for tasty soup recipes that are warm and nourishing, this red lentil soup recipe will fit the bill. It's simple, customizable and most of all, delicious.
Follow this 20-minute red lentil soup recipe for a big bowl of comfort and nutrition.
How to Make Red Lentil Soup
Things You'll Need
Large stockpot

1 cup dry red lentils

2 tablespoons ghee or olive oil

1 1/2 teaspoons curry powder or garam masala

1/2 teaspoon ground turmeric

1/2 teaspoon ground cumin

1 1/2 teaspoons salt (adjust to taste)

4 to 5 garlic cloves, crushed

1 small yellow onion, finely chopped

1 tablespoon ginger, grated (optional — can sub 1/2 teaspoon ground ginger)

2 celery stalks, cut into 1/2-inch pieces

2 carrots, peeled and cut into 1/2-inch pieces

1 cup butternut squash, cut into 1/2-inch pieces (or any type of squash, yellow potatoes or sweet potatoes)

6 to 8 cups low-sodium vegetable broth (for a creamy lentil soup recipe, use 4 to 6 cups of broth and 2 cups low-fat coconut milk)

2 tablespoons chopped cilantro (for garnish, optional)
In a large stockpot, heat your ghee or olive oil over medium heat.
Once it starts to bubble, add the onion and sauté until slightly golden and translucent, about 5 minutes.
Add in your ginger and garlic and sauté for a minute.
Add the lentils and spices (salt, curry powder, turmeric and cumin), stirring gently to combine until fragrant, about a minute.
Add the vegetables to the pot, stirring to combine, then place the lid on the pot. Let the veggies steam for 2 minutes covered.
Add your broth to the pot and bring it to a boil. Lower the heat and reduce to a simmer, then cover the pot.
Let the soup simmer on the stove covered for 10 to 15 minutes, until the lentils are broken down to a pureé. If you're using coconut milk, add it during the last 5 minutes of cooking.
Remove the soup from the stove and allow it to cook slightly before serving. Garnish with chopped cilantro, if desired.
Substitutions and Swaps for Lentil Soup
You can customize this lentil soup recipe with different veggies and spices according to your tastes. Here are some easy swaps and tips:
While this soup tastes great with spices like turmeric and cumin, you can omit them entirely and still end up with a tasty soup (just be sure to taste your soup during cooking and add/adjust other spices and seasonings as needed).
Leafy greens like baby spinach and kale make a great addition to lentil soup, too. Feel free to use frozen veggies, like a bag of frozen peas and carrots, if you're short on time.
You can also swap out the squash and use any of the options on this list of starchy vegetables, or choose to omit the starch entirely.
Lentils are a nutritional superstar: Not only are they full of plant protein (about 18 grams per cup cooked, depending on the type), but they're also high in fiber, a nutrient most of us need more of, according to the USDA.
Thanks to their nutritional profile and versatility, lentils are a staple in the Mediterranean diet, which is associated with a number of health benefits, like a lower disease risk and healthier aging, according to the Harvard T.H. Chan School of Public Health. They also feature prominently in Indian cuisine in dishes like curry.
But what we all need more than complicated, time-consuming recipes with ingredients we've never heard of are healthy options that both taste great and make life simpler — and what I love about red lentils is how quickly and easily they cook.
Other varieties like brown and green lentils take longer to break down, and some people even choose to soak them overnight beforehand to reduce cooking times. With red lentils, there's no soaking needed, and you won't have to boil them forever on the stove.
Was this article helpful?
Thank you for your feedback!