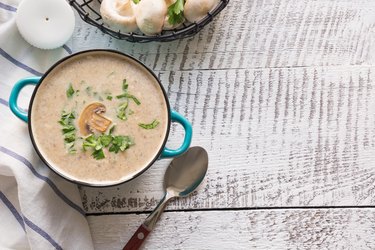 Nothing beats a warm bowl of soup if you're hunting for a cozy lunch or dinner. But, if you're watching your carb intake, you may find yourself at a loss for satiating options — let's be honest, veggies mixed in hot water don't make for the most filling dish.
But you certainly don't need noodles (or excessive prep time) to make your soup a hearty dish. If you're looking for a simple, low-carb soup to fight off the cold weather, try one of these four recipes.
1. High-Protein Coconut Curry Pumpkin Soup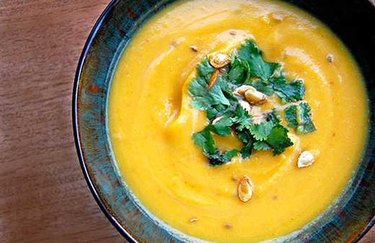 Whether it's in season or not, this fall-produce-inspired soup is a great low-carb choice and takes only 17 minutes to prepare. With 21 grams of carbohydrates and 2 grams of fiber, that leaves this soup at a total of 19 grams of net carbs.
Although coconut oil is high in saturated fat, which can raise LDL (bad) cholesterol, the tropical oil has also been shown to boost HDL (good) cholesterol levels, according to Harvard Health Publishing. Coconut oil is also high in lauric acid, a medium-chain triglyceride (MCT), which is linked to helping reduce blood pressure, increasing HDL levels and promoting ketosis.
2. Avocado Soup With Shrimp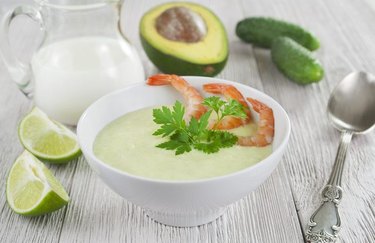 This soup definitely won't leave you feeling hungry after lunch! High in protein and high in healthy, unsaturated fat, this chilled soup needs only about 8 minutes to prepare. Not to mention, this recipe packs an impressive 10 grams of fiber (and only 14 grams of net carbs), which will help keep your digestion chugging smoothly.
Fiber is a crucial nutrient that can help promote good digestion, control blood sugar levels and may help lower cholesterol levels, according to the Mayo Clinic. Typically, women should shoot for about 25 grams of fiber per day while men should aim for about 38 grams per day.
3. Cream of Mushroom Soup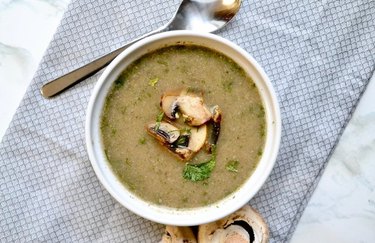 Soup makes for the perfect comfort food and this creamy mushroom recipe is excellent for a cozy night in. This recipe takes about 20 minutes to prep and is low in both calories and carbs, with just 10 grams. You'll need a decent amount of ingredients for this dish, though, so make sure to stop at the grocery store before you begin.
Kidney beans are a great source of plant protein, providing about 7 grams per half-cup. They also provide about 28 percent of your daily recommended value of fiber and a good amount of potassium, too, which can help counteract the sodium in the soup, according to the Centers for Disease Control and Prevention.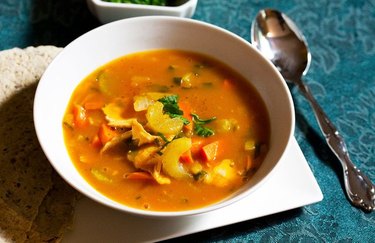 Prepared with coriander, ginger and pumpkin, this soup is sure to leave your home smelling seasonal and fragrant. This recipe packs 15 grams of protein with only 7 grams of net carbs, making it the perfect keto-friendly dish.
If you're debating soup for dinner, this recipe may help promote a good night's sleep. Turkey is high in tryptophan, an amino acid that your body converts into niacin, according to the National Sleep Foundation. Niacin plays a role in helping create serotonin, which is associated with promoting good sleep quality.