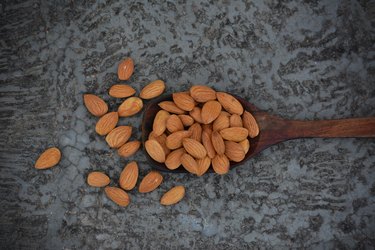 Abs Diet for Women is a book published by David Zinczenko in 2007. The Abs Diet for Women expands on the original Abs Diet book with additional information for women, including how their hormones affect their weight. Create a meal plan for abs by following simple principles.
Abs Diet Power Foods
Colorado State University Extension analyzed several diets, including the Abs Diet and found that this eating plan is likely to result in both short and long-term weight loss. The plan does not severely restrict calories or specific food groups and is flexible and realistic to apply to an individual's lifestyle.
The Abs Diet is centered around 12 power foods that Zinczenko makes easy to remember with the acronym ABS DIET POWER.
Almonds and other nuts
Beans and other legumes
Spinach and green vegetables
Dairy
Instant oatmeal
Eggs
Turkey and other lean meats
Peanut butter
Olive oil
Whole grain bread and cereal
Extra protein, specifically whey protein
Raspberries and other berries
You can use the list of power foods when creating a meal plan for abs. The Abs Diet recommends eating three meals per day with three snacks in between. The diet also limits the intake of refined carbohydrates and alcohol.
Healthy Smoothie Recipes
Smoothies are an easy way to incorporate power foods into your abs diet meal plan and they are easy and fast to prepare. Power foods that you can add to a smoothie include whey protein, dairy, berries, oatmeal and peanut butter.
Smoothies are also a great way to get more green vegetables in your diet. If you aren't sure about adding leafy greens to a sweet smoothie, consider this Hidden Spinach Smoothie from LIVESTRONG.com. Blend the following ingredients on high until the smoothie has a creamy consistency:
1 cup of steamed spinach
1 cup of sour cherries, frozen
1/2 cup each of frozen raspberries and blueberries
1/4 banana
1 scoop of protein powder
3/4 cup of milk
Another great smoothie to try is our Zesty Blueberry Basil Smoothie. This smoothie doesn't call for extra protein powder, but you can add it if you like. To make this smoothie, blend the following ingredients:
1 cup frozen blueberries
2 tablespoons of lemon zest
Juice from one lemon
7 basil leaves, fresh
1 tablespoon of chia seeds
1 cup of water
1 cup of ice
Get as creative as you like with your smoothies and feel free to add extra milk or water to make a thinner consistency or add more ice or frozen berries to thicken.
Abs Diet Recipes
Of course, smoothies alone aren't enough to complete your meal plan for abs. You also need healthy meals that include power foods and avoid processed carbs. You can keep it simple and traditional with a serving of lean meat like chicken or turkey and a side of green vegetables and whole grains like quinoa or brown rice. Breakfasts can be as easy as instant oatmeal with berries and almonds.
You aren't stuck with the basics, however. Consider our Turkey Tacos recipe that has several power foods including turkey, yogurt and green vegetables:
Shred a half-pound of cooked turkey breast into small pieces.
Mix the turkey with two shredded carrots, 1/3 cup of chopped parsley, 1/2 teaspoon of cumin, salt and pepper.
Place the mixture on to 12 corn tortillas.
Top each taco with sliced avocado, salsa and a dollop of plain yogurt.
Beat one egg and four egg whites.
Cook the scrambled eggs in a non-stick pan.
Add 1/2 cup of cottage cheese and 4 ounces of sliced turkey and mix in with the eggs.
Continue cooking until the eggs are set.
You can add even more power foods to this great recipe by adding spinach to the eggs and serving with a side of whole-grain toast.
When creating your meal plan, remember to include snacks. This can be as simple as combining items from the power foods list. Some snack ideas include:
A handful of almonds or other nuts
A slice of whole-grain bread with peanut better
Low-fat yogurt with berries
Hard-boiled eggs
Dangers of Abdominal Fat
The Abs Diet is about more than having a flat belly for the swimsuit season. According to the Office on Women's Health, being overweight has serious health risks including:
Breathing problems like sleep apnea
Increased risk of more than 13 types of cancer
Increased risk of developing diabetes
Difficulty getting pregnant
Increased risk of complications during pregnancy
Increased risk of heart disease and stroke
There are two types of abdominal fat: the subcutaneous fat that gives a person an apple shape and the intra-abdominal, or visceral, fat that is deeper in the abdominal cavity and surrounds the organs. Intra-abdominal fat is linked to an increased risk of stroke, hypertension, insulin resistance and diabetes, notes a study in the May 2013 publication of Research and Reports in Endocrine Disorders.
Maintaining a Healthy Weight
To lose excess weight, the Office on Women's Health recommends setting realistic goals, planning your meals and eating plenty of lean protein, whole grains, vegetables and fruits. The Abs Diet fits perfectly with these recommendations.
A recent study published in the February 2019 edition of BMC Public Health found that women who followed a diet with a caloric deficit experienced weight loss of 6.1 percent of body weight which included approximately 12- percent reduction in subcutaneous abdominal and intra-abdominal fat. Adding exercise to the diet resulted in similar results; however, the group that exercised saw a significantly higher reduction in subcutaneous abdominal fat.
While this study shows that exercise is not necessarily required for weight loss, it is recommended to see faster results and additional health benefits. The Physical Activity Guidelines for Americans from the Department of Health and Human Services recommends that adults get at least 150 to 300 minutes of moderate-intensity exercise each week. In addition to helping to lose weight or maintain a healthy weight, benefits of exercise include:
Improved sleep quality

Increased energy levels

Reduced risk of

all-cause mortality