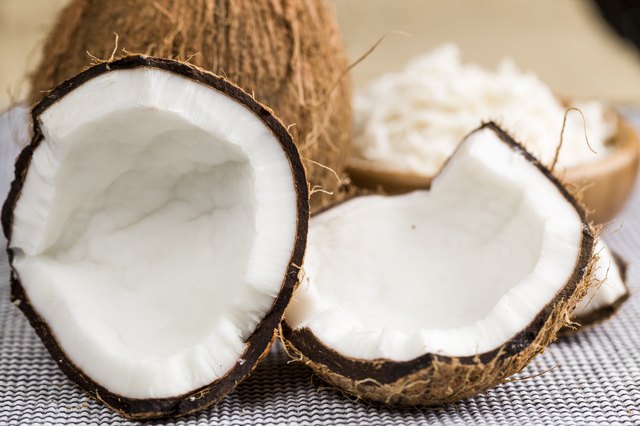 The rich flavor of coconut conjures up visions of tropical islands and warm weather. While coconut can have a number of health benefits, eating too much can be bad for your health. In addition to being high in saturated fat and calories, some varieties of coconut contain added sugar, which is considered less healthy than sugar that occurs naturally in foods.
Extra Sugar
Whether you choose sweetened or unsweetened coconut, you'll consume an unexpectedly high amount of sugar in a small serving. While a 1-ounce serving of dried, unsweetened coconut has 2.1 grams of sugar, the same serving of sweetened coconut has 10.4 grams of sugar. The American Heart Association states that a diet high in added sugar contributes to obesity and recommends limiting your daily added sugar intake for overall health, making unsweetened coconut a healthier choice. The association recommends limiting added sugar to 100 calories per day for women and 150 calories per day for men.
Higher Blood Cholesterol Levels
Coconut is also naturally high in saturated fat, which makes up nearly 90 percent of the total fat per serving. A 1-ounce serving of unsweetened dried coconut has 18.3 grams of total fat, 16.2 grams of which are saturated fats. The American Heart Association recommends that saturated fat make up no more than 7 percent of your total calories, which is around 16 grams for someone on a 2,000-calorie diet. A single serving of dried coconut provides more than 100 percent of the recommended upper limit. A diet high in saturated fat can raise your blood cholesterol levels, putting you at greater risk of developing heart disease or having a stroke. But coconut oil, while high in saturated fat, also contains medium-chain triglycerides, which can help raise levels of high-density lipoprotein, or "good" cholesterol.
Potential Weight Gain
In addition to being high in fat, coconut is also high in calories. A 1-ounce serving of dried, unsweetened coconut contains 187 calories per serving, and a 1-ounce serving of sweetened coconut contains 129 calories. For a 2,000-calorie diet, this provides 6.5 percent to 10 percent of your daily caloric intake. As it takes 3,500 calories to make up 1 pound of body weight, eating a lot of coconut, or eating it regularly, without decreasing your calorie consumption elsewhere or increasing your physical activity, can lead to weight gain. While coconut can be part of a healthy diet, you need to be aware of its high calorie content, especially if you include it regularly at your meals.
Possible Constipation
Coconut is naturally high in dietary fiber, which, while often a benefit because the American diet is frequently low in dietary fiber, can potentially cause digestive complications. A 1-ounce serving of dried, unsweetened coconut has 4.6 grams of dietary fiber, which is 12 percent to 18 percent of the recommended dietary intake of fiber for all adults. Rapidly increasing your dietary fiber consumption, especially if your diet is normally low in dietary fiber, can lead to diarrhea and gas, as your digestive tract is not used to processing that much fiber. Gradually increasing your fiber or coconut consumption can reduce the risk of side effects.