Young coconut meat is the soft, rich-tasting flesh of green coconuts, produced from the coconut palm tree. Before they fully mature, coconuts are green, with a thicker, fibrous outer shell. The juice from young coconuts is a refreshing and hydrating beverage, while the young meat can be eaten as is or shredded and mixed with the juice for extra texture.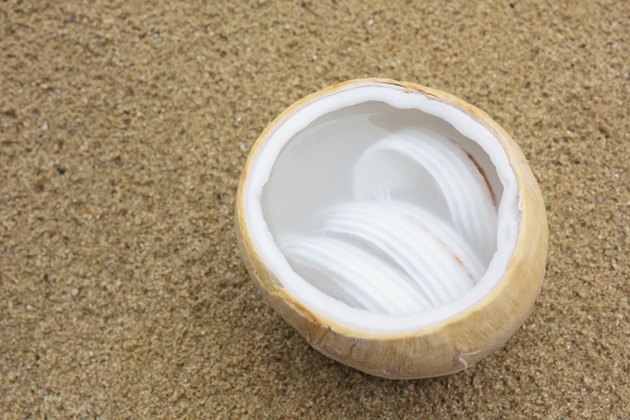 Dietary Fiber Content
A 1-cup serving of raw coconut has over 7 grams of dietary fiber per serving. Dietary fiber makes your stools bulkier and softer, helping you pass waste through your digestive system more easily. A diet high in fiber can reduce the risk of or treat constipation, hemorrhoids and diverticulosis. The dietary reference intake for dietary fiber is between 21 and 38 grams per day for adults. In general, the American diet is low in dietary fiber.
Benefits of Coconut Fats
Young coconut meat is rich in medium-chain fatty acids. Although these are saturated fats, your body processes them differently from other saturated fats, such as animal fats. An article published in the "Ceylon Medical Journal" in 2006 stated that medium-chain fatty acids, such as those found in coconuts, are used directly by the body as fuel, not broken down and absorbed like other saturated fats. The scientists concluded that coconut fats are widely misunderstood in the scientific community, and further research into potential benefits is called for.
Nutritional Profile of Young Coconut Meat
Raw young coconut meat has 283 calories per serving, with over 37 grams of water per 1-cup serving. A 1-cup serving has 26.8 grams of total fat, over 12 grams of carbohydrate and almost 5 grams of sugars. Raw coconut meat can sometimes be purchased frozen in Asian or specialty grocers, or it can be harvested directly from a halved, green coconut.
Vitamin and Mineral Content
Like coconut water, young coconut meat is a source of potassium and sodium, with 285 and 16 milligrams, respectively, per 1-cup serving. Balanced sodium and potassium levels help keep your blood pressure at a healthy level. Coconut meat is also a source of a number of B vitamins, including folate, with 21 micrograms per 1-cup serving. B vitamins help your body make energy from food and assist in the production of red blood cells.