Swimming pools are a big part of summer fun with family and friends. Swimming is an effective form of exercise and a way to relax and relieve the stresses of the day. To safely enjoy these benefits, you need to swim in a pool that will not put you at risk for recreational water Illness, or RWI. An example of a RWI is swimming in a pool with contaminated water, causing a swimming pool rash.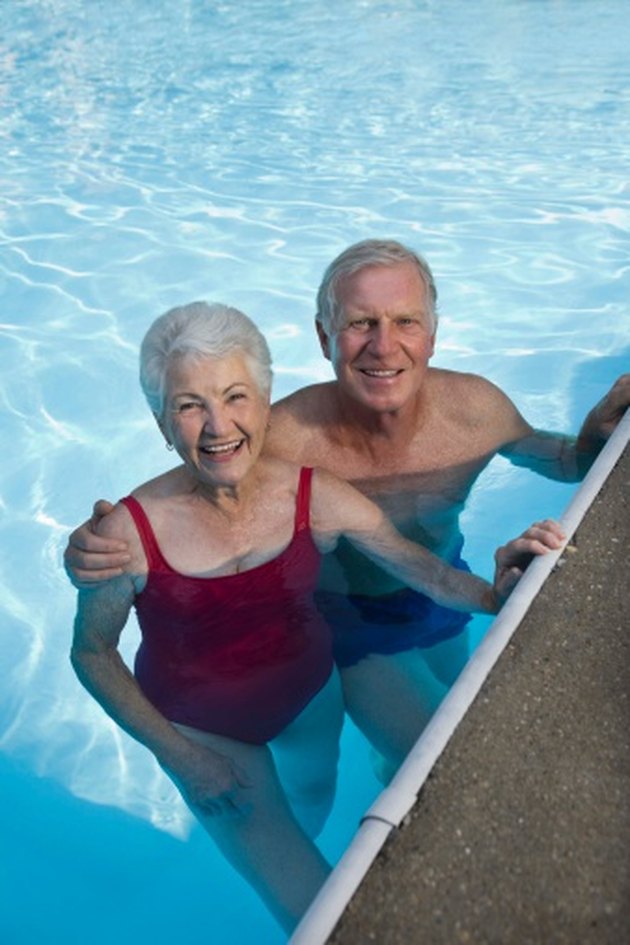 Causes
A swimming pool rash will occur 12 to 48 hours after exposure to the pseudomonas bacteria found in swimming pools when the disinfectants break down, causing bacterial growth. Swimming pool rash, or swimmer's itch, might also result from swimming in ponds, lakes, rivers or ocean water contaminated with parasites from birds or mammals, according to HealthySkincare.com, the symptoms of which are similar to the swimming pool rash caused by the pseudomonas bacteria.
Symptoms
Symptoms of swimming pool rash include: an itchy rash that might have blisters, occurring up to 48 hours after exposure to the pseudomonas bacteria. These itchy skin rashes might have small red bumps. This rash might appear all over the body, or only on the arms, legs or the trunk of the body and might look similar to chicken pox.
Treatment
Without treatment, a swimming pool rash will usually disappear on its own within seven to ten days. However, if the skin becomes infected, consult your physician for advice and treatment. According to Parents.com, over-the-counter antihistamines and soothing anti-itch products such as colloidal oatmeal or menthol cream might help ease the itching. Bathing in water to which baking soda is added will also soothe the skin.
Prevention
Proper pool maintenance -- including appropriate chlorination levels to fight against bacterial growth -- is a key factor in preventing swimming pool rash. Test your home pool at least once daily. Any heated pool needs more testing because bacteria grow more in warm water. Before jumping into any pool, look for water that is clear enough to see through at least 10 feet of water, and you should be able to see objects such as the metal grate at the bottom of the pool, according to Dr. Ian Smith of Time.com.