Egg whites fit the bill for an ideal weight-loss food. Egg whites may also be recommended if you are watching your cholesterol. In addition to being low in fat and calories, they're high in protein, a satiating, essential nutrient that can help you feel full and make you less likely to consume extra calories. It's important to realize that losing weight and keeping it off requires a continued commitment to a healthy lifestyle that goes beyond simply eating high-protein foods.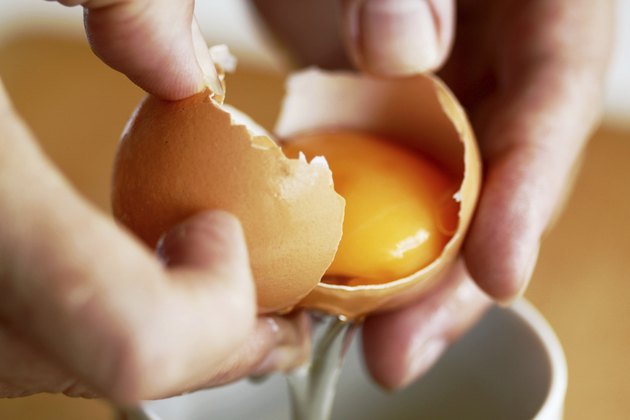 Nutrition Facts
According to the U.S. Department of Agriculture, a large egg white has about 17 calories, no fat, less than 1 gram of carbohydrates, less than 1 gram of sugar, no cholesterol and about 3.5 grams of protein. In contrast, a large egg yolk has about 55 calories, 4.5 grams of fat, 0.5 grams of carbohydrates, less than 1 gram of sugar, 185 milligrams of cholesterol and 2.7 grams of protein. From a weight-loss standpoint, the white is superior to the yolk because it's less energy-dense. The Centers for Disease Control and Prevention explains that a food that is low in energy density often has a high water content and low calorie content.
High-Protein Diet
A diet that's high in protein and low in carbohydrates and total calories can be an effective way to lose weight in the short term. In addition to featuring egg whites, such a diet might include plenty of lean meat, fish, nuts, seeds and low-fat or nonfat dairy products. However, if you do choose to eat egg whites as part of a high-protein weight-loss plan, don't stay on the diet for an extended amount of time. A study in the March 2003 issue of "Annals of Internal Medicine" reports that excess consumption of animal proteins may cause reduced kidney function.
Explanation
How do egg whites effectively help with weight loss? The answer has to do with their high protein content. Foods that have high amounts of lean proteins tend to be more satisfying and filling than foods with high carbohydrate or fat counts, so they may curb hunger more successfully and help you consume fewer total calories. Foods that are high in fiber, such as oatmeal, have some of the same properties and are also conducive to weight loss.
Considerations
Eating more protein through egg whites and other foods is one potential weight-loss method, but it doesn't come with a guarantee of working for everyone. According to the MedlinePlus online medical encyclopedia, there is only one proven strategy for losing weight, and that's to burn more calories than you consume, ideally through increased physical activity and reducing the number of calories you eat every day. Before you adopt any weight-loss plan or use egg whites as a way to help you slim down, speak with your doctor.