If you're looking to lose weight, walking 20 minutes a day can be a great starting point toward reaching your goals. In one 20-minute walk, the calories burned add up to pounds lost over a period of time. As you get comfortable walking 20 minutes a day, you may wish to increase your total minutes for even greater results.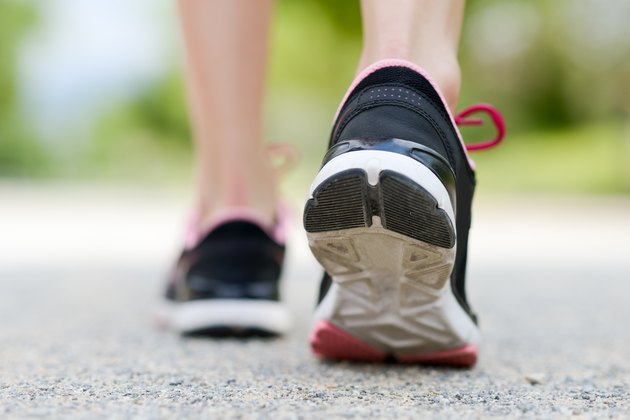 Tips
A 20-minute walk helps to boost calories burned, jump-start weight loss and meet your minimum recommended physical activity.
Benefits of Walking
Weight loss isn't the only benefit of walking 20 minutes a day. A brisk 20-minute power walk could cut your risk of heart disease by 30 percent. It may reduce the risk of diabetes and cancer as well as lower blood pressure and cholesterol.
Walking can also improve mental focus and enhance sleep. In fact, even 10 minutes a day of walking can improve your sleep quality and promote mental alertness in your waking hours.
Daily Recommended Activity
According to the Physical Activity Guidelines set forth by the U.S. Department of Health and Human Services (HHS), you should get at least 150 minutes per week of moderate-intensity physical activity. If you're walking 20 minutes a day, that adds up to 140 minutes a week.
As such, you may wish to increase your total minutes on one or more days, perhaps walking at least 30 minutes a few times a week. By doubling your total weekly minutes to 300, you can enhance your results even further.
You can also choose to boost the intensity of your walk by walking on an incline or adding in short bursts of running. In fact, the HHS guidelines allow for 75 to 150 minutes of vigorous-intensity exercise per week with the same benefits of longer, moderate-intensity exercise. You may wish to combine moderate and vigorous activities throughout the week, or even twice a day, to meet or exceed the minimum recommended minutes.
Calories Burned by Walking Steps
The calories burned walking depends on the steps you take, the distance covered and your weight. The heavier you are, the greater the number of calories burned per mile. For example, an average 160-pound person burns about 105 calories per mile.
A pedometer can help you track your number of steps and the corresponding calories burned walking for 20 minutes. Most people take about 2,000 steps per mile per mile and can walk about a mile in 20 minutes. You can also use an online calculator to estimate your calories burned per walking step.
Once you know your own rate of calories burned per step, then you can calculate how much walking you need to do in order to lose weight. To lose 1 pound of body fat, you need to burn about 3,500 calories. So let's say your 20-minute walk equals about 100 calories burned. In that case, it would take you 35 days of walking 20 minutes a day to lose one pound.
Walk Whenever You Can
Walking 20 minutes a day or more is a low-impact activity that's easily incorporated into your daily routine. There's no equipment required other than a good pair of walking shoes!
To increase the number of steps you take and calories burned walking, seize every opportunity to walk throughout the day. Park farther away, take the stairs, walk to your destinations instead of driving whenever possible, and add a few minutes onto your daily 20-minute walk to boost calories burned.