If you have or are at risk for diabetes it is important to control your blood sugar levels through diet and exercise. Different foods affect blood sugar levels differently and each person with diabetes has unique responses to food. A physician or registered dietitian can help in formulating a healthy eating plan, which should include plenty of fruits and vegetables. However, even healthy foods such as bananas can raise blood sugar levels too much, so it is important to test often.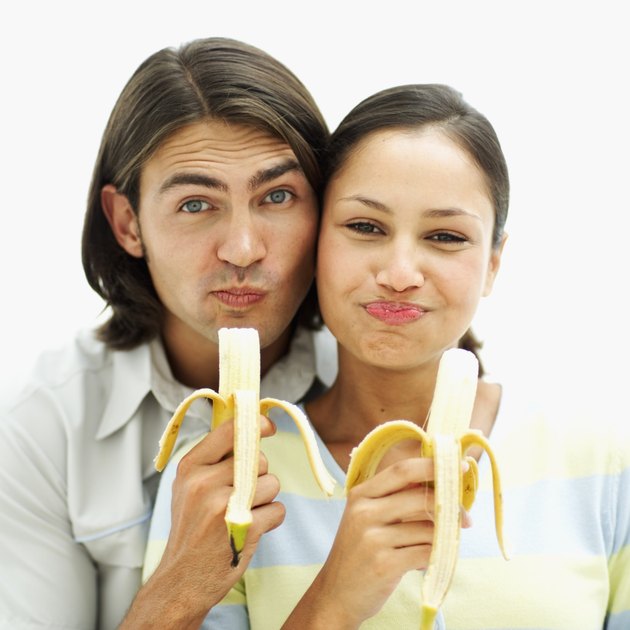 Diabetes
After eating, the body breaks down the food into glucose or blood sugar to provide the body with energy. The hormone insulin must be present in order for the cells to use the glucose. Having diabetes means that the body either does not produce insulin or is unable to use it properly, which means blood sugar levels can get too high. Over time, high blood sugar levels can lead to vision problems, heart disease, damage to the kidneys and damage to the nerves. A large part of preventing diabetes related complications, is eating a healthy diet that keeps blood sugar levels within the range given to you by your doctor.
Carbohydrates
Carbohydrates are the main type of food that affects blood glucose levels. Diabetics have to watch not just how many carbohydrates are eaten, but the type as well. Carbohydrates that come in the form of processed or refined grains such as white bread, white rice, potatoes and baked goods, tend to be digested very quickly. They can cause blood sugar levels to spike and drop, making diabetes harder to control. Carbohydrate sources such as fruits, vegetables and whole grains are digested more slowly, which helps to keep blood sugar levels in check. However, even healthy carbohydrates such as bananas need to be eaten in moderation and the best way to tell how a food affects your blood sugar level is to test yourself after eating. The National Diabetes Information Clearinghouse, suggests keeping blood sugar levels at less than 180 one to two hours after a meal.
Bananas and Blood Sugar
A general goal for diabetics is to eat no more than 45 grams of carbohydrates at each meal and some may need to go even lower. Bananas are part of an overall healthy diet because they contain fiber, potassium and vitamin C, but they also contain carbohydrates and the amount depends on the size of the banana. According to the American Diabetes Association, a banana that is 6 inches or shorter has about 18.5 grams of carbohydrate; a 7-to-8-inch banana can contain between 27 to 31 grams of carbohydrates and a large banana that is 9 inches or longer, can have up to 35 or more grams of carbohydrates. So eating a banana can cause a rise in blood sugar levels.
Glycemic Index and Load
Bananas have a low glycemic index, or GI, at 47, and a moderate glycemic load, or GL, of 11. Glycemic index and load both indicate the effect a food has on your blood sugar. Foods with a high GI and GL have a rapid and pronounced effect on your blood sugar, leading to blood sugar spikes, while foods with moderate or low GI and GL have a sustained effect on your blood sugar. Eating foods with a low or moderate GI and GL help to regulate your blood sugar levels, and also help lower your risk of cardiovascular disease, explains the Linus Pauling Institute.