Green salads are a healthful addition to any diet, with most leafy vegetables providing lots of nutrients in a very low-calorie serving. Adding a side of mixed greens or a main-dish salad to your daily regimen in place of higher-calorie foods will go far toward helping you lose weight. But don't be tricked into thinking all salads are created equal, or that eating a food like salad every day frees you to indulge in unhealthy foods.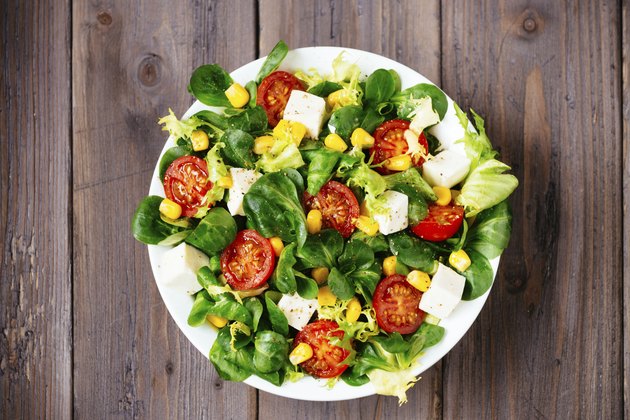 Do you want to lose weight or be healthier? Join MyPlate Calorie Counter and get access to free meal plans, healthy recipes and at-home workouts. You'll also get daily calorie and macro goals for your fitness journey. Don't miss your chance for amazing results. Sign up today!
Creating a Salad Base to Lose Weight
When you're constructing a salad, either at home or at a salad bar, skip the iceberg lettuce and opt for the more nutrient-dense darker greens. Kale, spinach, arugula, and romaine -- or a mix of baby greens -- all make excellent, low-calorie choices for your salad base. A cup of kale or romaine lettuce, for example, contains only 8 calories. Use 2 to 3 cups of greens when you're preparing a main-dish salad; 1 cup makes a good side dish. You'll be getting high amounts of some essential nutrients in one low-calorie serving; a cup of kale provides 21 to 25 percent of your daily vitamin C needs, depending on whether you're a man or woman, and 125 to 150 percent of your vitamin K requirements. Compare that to iceberg lettuce, which supplies 2 to 3 percent of your vitamin C and 19 to 23 percent of vitamin K. Vitamin C is essential for healthy tissues and immune strength, while vitamin K helps your blood clot properly and also builds strong bones.
Build Your Salad to Boost Satiety
Leafy greens don't contain much fiber or protein to speak of – kale has less than a gram per cup of either. These two nutrients are strongly associated with satiety, so you'll need other additions to make your salad a satisfying meal or side dish. If you're making a main-dish lunch or dinner out of salad, get your protein by topping your greens with a serving of grilled chicken breast or cottage cheese, and a half-cup of chickpeas or other beans. To boost the fiber, add chopped raw veggies, like broccoli florets, asparagus tips, sliced carrots and tomatoes, or slice a fourth of an avocado onto your salad. A salad of 3 ounces of chicken, a half-cup of chickpeas and a cup of chopped broccoli atop 2 cups of romaine weighs in at just about 300 calories. Switch your ingredients daily, so you'll always have a fresh take on your salad – swap the chicken for salmon, for example, and pair with cannellini beans, tomatoes and asparagus.
More Tips for Eating Salad to Lose Weight
If you're not making a meal of salad, try a side-dish salad before your meal to help you decrease your portions of other foods. A study published in the Journal of the American Dietetic Association in 2004 found that eating a large portion of a low-calorie salad as a first course at lunch reduced women's caloric intake during the pasta meal that followed. However, eating a big salad with added cheese and dressing increased the women's caloric intake overall. When constructing your salad, go for veggies and lean protein instead of high-calorie toppings like croutons and cheddar cheese. Spritz some lemon juice or red wine vinegar on top for additional flavor at very few calories.
Or add salad to your daily regimen in place of higher-calorie meals. For example, having a 300-calorie main-dish salad with chicken or salmon for lunch instead of a fast-food chicken or fish sandwich will save you 270 calories a day; you'll also get a wider range of nutrients. In this scenario, one daily salad adds up to a savings of 1,900 calories in a week. Because 3,500 calories equal a pound of body weight, simply making this salad swap every day will help you lose more than 1/2 pound a week.
Combine the substitution of healthier foods like salad with a regular exercise program for the best weight-loss results. Current recommendations are for at least 150 minutes a week of aerobic exercise coupled with strength-training exercise two days a week.
Potential Drawbacks of Eating Salad Every Day
Although salad can help you lose weight, avoid the trap of thinking that eating it every day gives you a free pass to indulge in higher-calorie foods – as if one healthful addition to your diet cancels out other bad choices. A study published in the Journal of Consumer Research in 2015 discovered that supermarket shoppers who selected "virtuous" foods like kale were more likely to purchase high-calorie foods like ice cream and beer in the same trip. An article published in the Journal of Consumer Psychology in 2011 chronicled the false perception among some dieters that eating a healthy food like salad alongside unhealthy foods – say, a cheeseburger and fries – magically decreases the overall calorie count of the meal.
There may be a few medical concerns, too, with eating salad every day. If you are taking a prescription blood thinner like warfarin, you will want to inform your doctor if you decide to increase your intake of vitamin-K-rich foods such as kale and other dark greens. In addition, dietitian Joy Bauer notes that leafy greens can trigger symptoms of irritable bowel syndrome in some individuals.