Nuts can't burn fat -- no food can. Your body uses fat for energy only when the number of calories you consume is less than the amount you need to burn. However, nuts contain nutrients that may promote weight loss by helping you feel fuller longer. Choose nuts rich in these nutrients and eat them in moderation as part of a varied, balanced diet.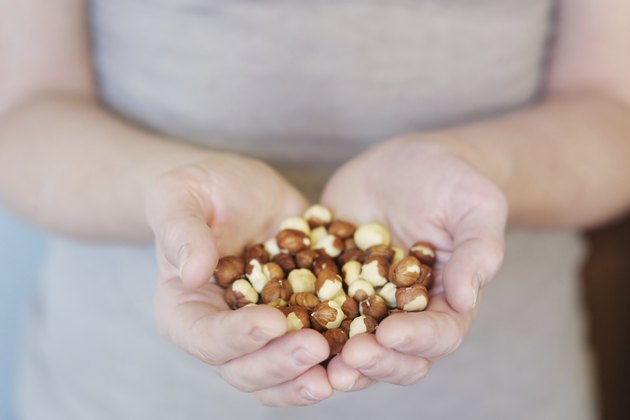 Fill Up With Fiber
A 2001 article published in "Nutrition Reviews" links a high intake of dietary fiber with a lower risk of becoming overweight or obese. The researchers report that adding 14 extra grams of fiber to your daily diet might result in a weight loss of 4 pounds over 3 1/2 months. This may be because high-fiber foods make you feel sated and decrease the chance you'll overeat later. All nuts contain fiber, but almonds, pistachios, pecans and hazelnuts supply the highest amount per serving. One ounce of almonds has 3.5 grams of fiber, while pistachios have 2.9 grams.
Pack in the Protein
Registered dietitian and University of Arizona adjunct professor Martina M. Cartwright says a diet that supplies 0.8 to 1.2 grams of protein for every kilogram of your body weight promotes satiety and helps you burn more calories as the protein is metabolized. To obtain this protein from nuts, the best choices would include peanuts, which have 7 grams of protein in every 1-ounce serving, almonds with 6 grams per ounce and pistachios at 5.8 grams in every ounce.
Have a Dose of Healthy Fats
Nuts are one of the best natural sources of monounsaturated fats. Macadamia nuts contain the most with 16.7 grams in every ounce. Hazelnuts supply 12.9 grams and pecans 11.6 grams in a 1-ounce serving. Other nuts, such as almonds, peanuts and pecans, supply between 6.8 and 8.8 grams per ounce. A study published in "Diabetes Care" in 2007 reported that people consuming a diet rich in monounsaturated fats were not only less likely to accumulate fat around their waists, but their amount of abdominal fat decreased.
Mix It Up, Moderately
Don't fixate on which specific type of nut is the best to include in a weight-loss plan, advises "The Harvard Medical School Family Guide." Instead, enjoy a variety, but keep your portions under control. On average, nuts contain 160 to 200 calories per ounce. Eating too many might provide you with excess calories that will cause you to gain fat, not lose it. Avoid salted, oil-roasted or sugar-glazed nuts in favor of unsalted raw or dry-roasted options.