Iron is an essential mineral that supports the proper formation of red blood cells and takes an active role in ensuring that your body has plenty of oxygen. Meat, poultry and seafood are among the top sources of iron in the average diet, but a limited number of beverages can also help you reach the recommended amount of iron you need every day.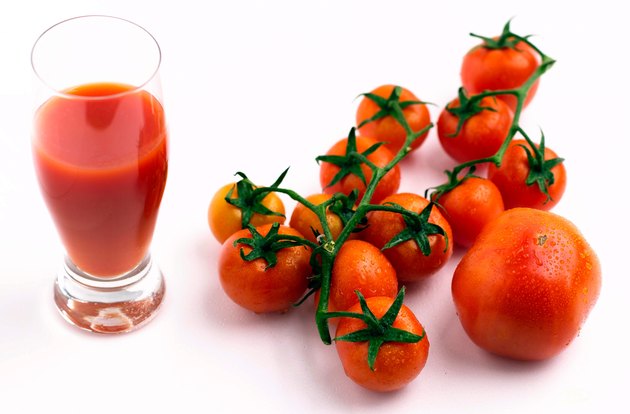 Vegetable Juices
Tomato juice is a healthy source of vitamin C and potassium, but it also supplies a good dose of iron. A 1-cup serving of tomato juice contains about 1 milligram of iron, which is about 6 percent of what women need each day and about 13 percent of what men require daily. Other than tomato juice and vegetable juice blends that contain tomato juice, vegetable juices don't supply much in the way of iron.
Fruit Juices
Most types of fruit juice don't contain a significant amount of iron, but prune juice is one example that does supply a good dose. One cup of prune juice supplies 3 milligrams of iron, which is 17 percent of what women need each day and 38 percent of what men should have in their daily diet. Fortified orange juice is also a source of iron, though it doesn't supply anywhere near as much as prune juice. A 1-cup serving delivers 0.32 milligram of iron.
Hibiscus Tea
Though you won't get a significant amount of iron from traditional black or green tea, hibiscus tea does supply quite the impressive dose of this essential mineral. A 1-cup serving of brewed hibiscus tea delivers about 20.5 milligrams of iron, which is much more than men need each day and slightly more than women require each day.
Getting Enough
Though these drinks do supply some iron, you probably won't drink enough of any of them, with the exception of hibiscus tea, to get all of the iron you need for the day. Women under the age of 50 need 18 milligrams of iron per day, while women over the age of 50 require 8 milligrams, according to the National Institutes of Health. Men of any age need 8 milligrams of iron every day. Additional ways to ensure you get the amount of iron you need for good health include eating lean meats, leafy green vegetables, beans and fortified breads, pasta and cereal.