Bicycling is not only a popular, enjoyable activity, it's also a full-body workout, utilizing nearly all of the major muscle groups in your body. Although it primarily relies on the muscles in your lower body, your upper body also gets a workout. The health benefits only increase when you go mountain bicycling or cycling on an incline, because the resistance of the exercise is increased.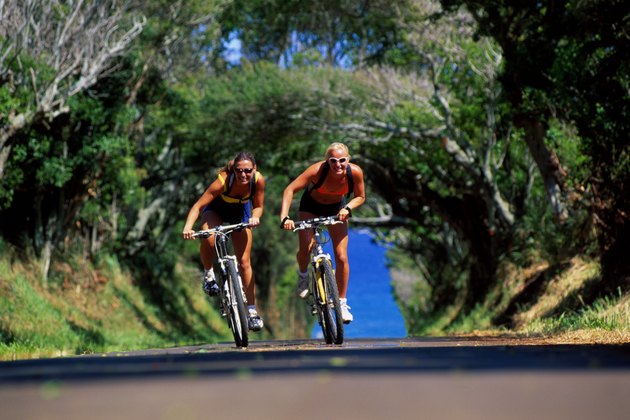 Legs Play a Big Part
Your legs are heavily relied on in bicycling, for the action of pushing the pedals to power the bike. The quadriceps at the front of your thighs and the hamstrings at back are the primary muscles in your lower body used during cycling, but the gastrocnemius and smaller soleus muscles in your calves are also utilized. Your quads are mainly used when you straighten out your leg to push down on the pedals, while the hamstrings work with the calf muscles to bring the pedal around and back up after you reach the bottom of the stroke.
It Works Your Abs and Core
Cycling is a great exercise for building your abs and strengthening your core, which improves your balance and coordination in turn. To maximize the muscle-building benefits of cycling for your abs and core, remember to engage your core while cycling, by tucking in your lower rectus abdominis muscles. You should feel a light squeezing in your lower abs, and this also helps you maintain proper posture while riding.
Even Your Arms Get in on It
The muscles in your arms aren't the most heavily relied on during bicycling, but they still play a role. In particular, biking works the deltoid muscles in your shoulders, as well as the biceps and triceps in your upper arms. The biceps sit at front and the triceps at back, and both muscle groups get worked as you grip onto the handles of the bicycle, even more so when you're learning forward while you're riding.
Put Your Back Into It
The lower back muscles, namely the latissimus dorsi muscles, provide your body with stability and balance, helping you keep your coordination while cycling. These muscles are utilized and strengthened by bicycling, and become even stronger when you are riding uphill or over rough terrain, because they are relied on more to help you keep your balance. Try to keep your back straight when cycling, and even when you lean forward, avoid arching your back.
Remember, Safety Comes First
Bicycling is a great full-body workout, but can be dangerous if you're not taking the proper safety precautions. If you're inexperienced with cycling, don't take on steep inclines or rough terrain. Bicycling is considered as a low-impact sport, but can result in injury such as foot damage, lower back pain and muscle strain. Whether you're on a stationary bike or hitting the road outdoors, maintain proper form and always wear a helmet when you're cycling outside.