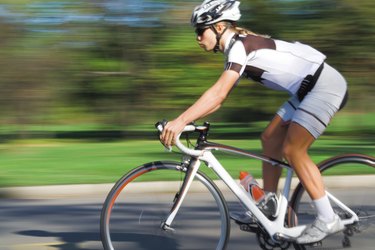 You can ride a bike wearing an old pair of sneakers, but cycling shoes can improve your performance. Cycling shoes attach to the pedals of the bike via cleats on the bottom of the shoe. Known as clipping in, this attachment allows a rider to make efficient use of the leg muscles in the upward and downward pedal stroke. This improved efficiency means greater speed with less effort. Proper fit of cycling shoes is vital to avoid foot pain and to prevent the shoes from slipping during a ride.
Step 1
Select the appropriate cycling shoes based on the type of bike and how it is used. Shoes for mountain bikes have recessed cleats that enable a rider to walk comfortably for short distances and are a good choice for commuters. Shoes for road bikes have protruding cleats that make walking difficult but provide excellent support for power during races.
Step 2
Visit a bike shop during the late afternoon when shopping for cycling shoes. This is when your foot is at its largest and is the best time to properly size any type of shoe.
Step 3
Request that store personnel size your foot. This is especially important because many cycling shoes are sized using European measurements.
Step 4
Try on several pairs of shoes. The shoes will likely feel stiff due to the rigid sole, but should otherwise feel comfortable and snug without being overly tight. Cycling shoes stretch very little over time, so be certain the shoe feels good when first trying it on.
Step 5
Stand in the shoes. You should have no more than one-half inch of space from your big toe to the tip of the shoe. Your toes should not press against the front of the shoe, but you shouldn't be able to freely wiggle your toes, either.
Step 6
Walk a short distance in the shoes. Although the heel should feel fitted to your foot, the shoe will move slightly at the heel. What you don't want is a shoe that feels as if it is slipping around on your foot, which can lead to blisters.
Step 7
Sit on a bench or chair and mimic an exaggerated pedaling motion by pressing out your leg with your foot flexed, then moving your foot downward as if scraping something off your toes as you bring the leg back. This should give you a good indication of how the shoe will feel as you ride. There should be no slipping or pinching as you make these motions.
Step 8
Evaluate the shoe for its overall comfort. Make sure there are no seams that irritate your foot. Check that the fasteners don't cause pain or exert too much pressure. Verify that the insole is thick enough to keep the bottom of your foot comfortable against the hard sole of the shoe.
Tip
When visiting a bike shop to try on cycling shoes, bring along the type of sock you intend to wear when you ride.
If you intend to do long-distance rides, you should also consider the weight of the shoes. A heavier shoe can make long rides more challenging.
Shop with a reputable bike store that allows you to exchange products even after you've tested them. If your shoes end up not feeling right after a few rides, you want the option of trying another pair until you find a perfect fit.