Even if you have frozen cod and limited time, you can still make a complete — and impressive — meal. Most recipes and chefs suggest you thaw cod before cooking it in the oven. However, if you are strapped for time, you can still bake frozen cod without waiting hours for the fish to thaw. Plus, baking frozen cod will still allow you to collect juices from the pan and create a light sauce for your main course.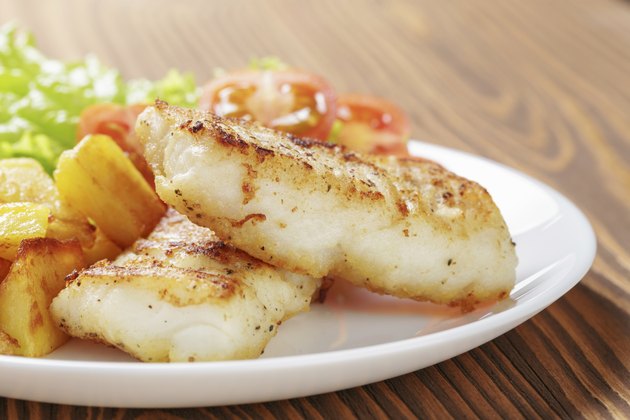 Step 1
Preheat your oven to 450 degrees Fahrenheit.
Step 2
Remove the frozen cod fillet from the wrapper.
Step 3
Rub 1 tbsp. of butter over the fillet(s) until the surface is covered. Sprinkle a few drops of lemon juice over the fish.
Step 4
Season the cod with salt, pepper, and any other spices you desire. Garlic and parsley are popular choices.
Step 5
Grease a cookie sheet with butter or cooking spray. Place the fillets on the cookie sheet, equally spacing them.
Step 6
Place the sheet in the oven when it is preheated. Cook the cod for 30 to 35 minutes or until the fish flakes easily and the center is no longer translucent.
Step 7
Collect the drippings and place them into a saucepan. Season the cod with salt, pepper and lemon to create a complementary sauce.
Things You'll Need
Tongs

Butter

Lemon

Salt

Pepper

Cookie sheet

Saucepan
Warning
Always check the center of the fish before consuming it. Undercooked fish will appear translucent, while cooked fish will be opaque and easily flaked.