The term "rockfish" actually encompasses about 70 varieties. The fish sometimes goes by names such as "rock cod," "black bass" or "Pacific ocean perch." Regardless of the name, these fillets have common features -- a lean consistency and a fine, flaky texture that lends itself to baking. If you'd rather fry your fillets, retain their delicate texture and innate moistness with a quick, high-heat sizzling in a skillet to keep the meat nice and juicy.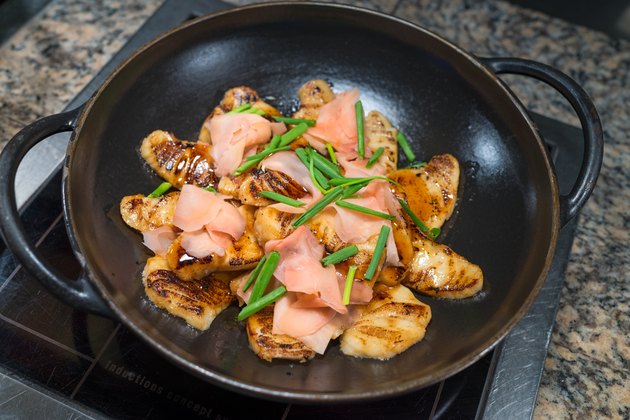 Step 1
Prepare a skillet with a few spoonfuls of butter or olive oil. Choose butter for a saltier, richer flavor, or olive oil for a lighter taste that brings out the naturally nutty tones of rockfish. Heat the skillet on medium until the oil or butter gets sizzling hot but not smoky.
Step 2
Season the fillets with the spices of your choice as the skillet heats up. Choose classic flavors with salt, pepper, garlic, basil or parsley, or go for bolder flavors with cilantro powder, Cajun-style seafood seasoning mix or chipotle pepper powder. For a crunchier pan-fried rockfish, season flour and mix in some egg -- about one egg for every ¼ cup of flour -- then lightly coat the fish in the mixture.
Step 3
Turn the heat to medium-high and place your rockfish fillet in the pan. Fry the first side for two to three minutes, then carefully flip with a spatula and cook the other side for one to three minutes. Each side of the pan-fried fillet should take on a light, golden brown hue and a slightly crisp finish. The meat should flake easily -- a chewy texture or translucent hue indicate undercooked fish.
Things You'll Need
Skillet

Butter or olive oil

Flour, optional

Eggs, optional

Seasonings

Spatula
Tip
Cook the fillets with the skin on to ensure that they don't fall apart in the pan. Fry the skin-on side first, then flip the fillets and cook the skinless side.