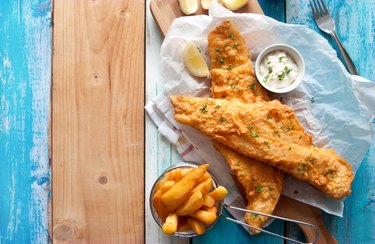 Try these great rockfish recipes: fried rockfish and rockfish tacos. Fried rockfish is easy to make, and a fast dinner.
According to the Alaska Department of Fish and Game, there are 32 species of rockfish in the gulf of Alaska. Rockfish reach up to 40 inches in length, have large scales, spines on the head, fins and gill-covers, and can be colored red, orange, yellow, gray or black.
Fried Rockfish Recipe
Things You'll Need
1 and a half pounds of rockfish fillets


Lemons

Quarter teaspoon paprika

Quarter teaspoon black pepper


Quarter cup of minced parsley

Knife


Mixing bowl

Tongs


Baking sheet

Step 1: Cut the Lemon
Cut the lemon into eight slices. Spray a baking sheet with vegetable oil and place the lemon slices on the baking sheet. Preheat oven to 425 degrees Fahrenheit.
Step 2: Combine Seasonings
Combine seasonings in a bowl. You can add a bit of cayenne pepper to spice up the fish if you'd like.
Step 3: Add the Fish
Place the fish on top of the lemon slices using tongs. Sprinkle the seasoning blend over the fish. Bake for 13 minutes. Use a fork to test for flakiness to see if it's ready.
Tip
Seafood Nutrition Partnership recommends using the 10-minute rule when cooking fish: Find the fish's thickest point and measure the width. Cook on medium, for 10 minutes per inch, to an internal temperature of 145 degrees Fahrenheit. Turn the fish over halfway through the cooking time.
Rockfish Tacos Recipe
Things You'll Need
One tablespoon of canola oil

Juice of two limes


Two teaspoons of chili powder

Quarter cup of cilantro

20 ounces of rockfish

Cooking spray


Eight corn tortillas

Half of a medium avocado

Quarter cup of plain Greek yogurt


One teaspoon of hot sauce

Half cup of salsa


One and a half cups of raw purple cabbage

Step 1: Combine Ingredients
Combine cilantro, lime juice, oil and chili powder. Add the fish and let sit for 20 minutes in the refrigerator.
Step 2: Cook the Fish
Spray cooking oil on large pan and heat over medium to high heat. Add fish and cook for two to three minutes each side.
Step 3: Make the Tacos
Remove from heat and flake the fish with a fork. Combine hot sauce, yogurt and avocado in a small bowl. Add fish to each taco, dividing evenly. Add one and a half tablespoons of the hot sauce, yogurt and avocado mix. Top with one tablespoon of salsa and some purple cabbage. Serve and enjoy.
Rockfish is high in protein, calcium, magnesium, phosphorus, potassium and vitamins A and D. According to the USDA, 1 fillet (149 grams) of rockfish cooked in a dry heat contains 162 calories, 33.1 grams of protein, 25.3 milligrams of calcium, 49.2 milligrams of magnesium, 370 milligrams of phosphorus, 133 milligrams of sodium, 14.9 grams of folate, 7.45 micrograms of vitamin A, 6.85 micrograms of vitamins D2 and D3 and 90.9 milligrams of cholesterol.