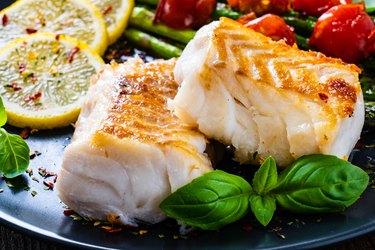 A fairly versatile fish with a mild flavor, ocean perch fillets can be substituted in other fish recipes.
The University of Maine explains that ocean perch is a white-fleshed fish that needs to be handled carefully because it tends to spoil faster than other fish. Cook the fish to a minimum internal temperature of 145 degrees Fahrenheit, until the flesh is opaque and easy to separate with a fork, per the U.S. Department of Health & Human Services.
In terms of nutrition, ocean perch is compatible with a high-protein and low-carb or no-carb diet. According to the USDA, a 4-ounce serving of ocean perch offers:
90.4 calories
1.5 grams of fat
59.9 milligrams of cholesterol
0 grams of carbs
17 grams of protein
Try these tasty ocean perch recipes to add more healthy fish to your diet.
How to Cook Perch Fillets in the Oven
Baked perch works best with a flavorful, breaded coating. The breading creates a crispy exterior that surrounds the meat, providing an enticing crunch with each bite. Here's how to make breaded oven-baked perch.
2 cups panko bread crumbs
1 tbsp. paprika
1 tsp. ground black pepper
1/2 tsp. salt
3 tbsp. melted butter
1 tbsp. lemon juice
4 4-oz. perch fillets
2 shallow bowls
Spoon
Baking pan
Preheat the oven to 500 degrees Fahrenheit.
Combine the breadcrumbs, paprika, ground black pepper and salt in a shallow bowl. Stir with a spoon to blend the ingredients. Mix the melted butter and lemon juice in a second shallow bowl.
Submerge each perch fillet in the butter and lemon juice mixture and then roll them in the breadcrumb mixture.
Place the breaded fillets into the baking pan and set into the oven. Bake the fillets for 15 minutes or until the breading is crispy and golden brown.
Remove the perch fillets from the oven and allow them to cool for five minutes before serving.
Tip
Refrigerate leftover perch fillets and eat within 3 days. If you prefer low-sodium meals, omit the salt and use unsalted butter.
Sesame Perch Fillet Recipe
3 perch fillets, about 1-inch thick
3 tablespoons of oil or margarine
3 tablespoons of butter
2 cups of soft, whole-wheat breadcrumbs
1/2 cup of sesame seeds
1/2 teaspoon of thyme
Salt to taste
Grease the baking dish with oil or margarine.
Salt the perch fillets and place them in the greased baking dish.
Spread a 1/2 tablespoon of melted butter on each fillet. This will help the seasoning mixture stick to the fish.
Combine the sesame seeds, breadcrumbs, thyme, salt and remaining butter. Spread the mixture over the perch fillets.
Bake the perch fillets at 350 degrees Fahrenheit for about 30 minutes until they flake easily.
Baked Perch in Foil Recipe
Try this ocean perch recipe if you prefer to bake the perch in foil. Wrapping the fish in foil helps it cook in its own steam.
​Ocean perch fillets:​ Allot about one or two fillets per person.
​Vegetables:​ You can use onions, potatoes, carrots, peppers, zucchini and tomatoes. Just chop them into slices that are roughly equal in size.
​Oil or butter:​ You can use olive oil and add a dash of butter for flavor.
​Seasoning:​ You can use any sauce or seasoning blend that you like. If you want to keep it simple, just use a few cloves of garlic and some lemon. If you like the lemon flavor to be strong, you can use lemon juice. Alternatively, if you prefer it to be milder, you can use either lemon slices or lemon zest. Use salt and pepper to taste.
Line a baking tray with foil.
Place the fish in the middle of it and spread a little butter over it.
Sprinkle some salt and pepper over it. Add in the sauce or the seasoning blend, or the garlic and lemon, whichever you decide to go with.
Pile all the vegetables over the fish and drizzle a little olive oil on top.
Wrap the foil tightly, so that there are no openings.
Bake the perch in a preheated oven at 475 degrees Fahrenheit for 15 minutes. If you want the fish to get a little crusty, unwrap the foil so that the fish is visible and cook it for another 5 minutes.