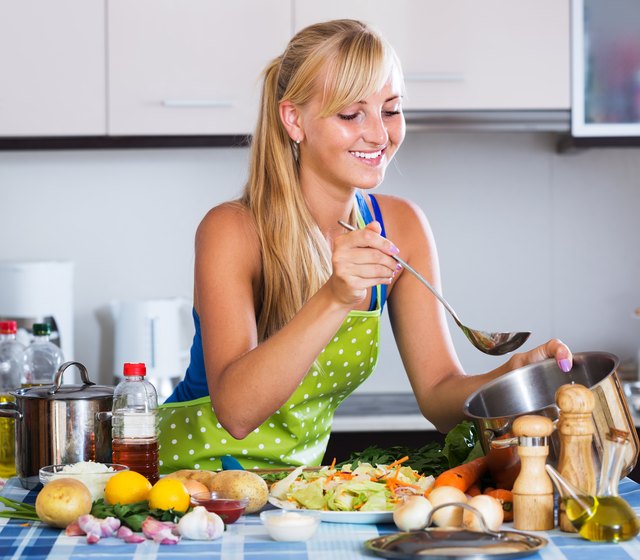 If you've recently adopted a vegetarian diet, you might already be on your way to successful weight loss. Vegetarians tend to have lower body weights and leaner shapes, and they generally eat fewer calories and less fat than meat eaters. However, a vegetarian diet is not always inherently healthy, and you might still have to cut calories, increase the amount of exercise you do and choose lighter, more nutritious foods if you want to lose 20 pounds.
Step 1
Track the number of calories you normally eat in a day. Use a calorie counter to get an accurate number, and keep an online food journal for several days. Note each daily calorie total, then figure out the average by adding up all the days' totals and dividing by the number of days. That figure can help you decide how many calories you'd like to cut.
Step 2
Decrease your average caloric intake by 200 calories a day, you can expect to lose about 1.5 pounds per month through diet alone; cutting 500 calories daily will result in 4 or 5 pounds lost per month. One reliable way to cut calories is to eat zero-calorie foods that are filling, such as celery sticks, apples, or carrot sticks.
Step 3
Eliminate processed foods and high-fat restaurant meals from your diet. Instead, focus on foods that have low energy density. Such foods are normally high in lean protein, fiber and/or water and low in both fat and calories. Examples include watermelon, oatmeal, brown rice and salad greens.
Step 4
Perform moderate-to-intense cardiovascular activities, such as jogging or swimming, four to five days per week. If you maintain a low-calorie eating plan and burn hundreds of calories daily through exercise, you can expect to lose 1 to 2 pounds per week or about 20 pounds in two-and-a-half to five months.
Tip
Even as a vegetarian, it is important to consult your physician before beginning a new diet and exercise program.