You can spend about two hours preparation and cooking time to make scrapple from scratch using pork parts, cornmeal and seasonings or you can purchase a scrapple product like those made by the Rapa company. Rapa's pork scrapple is made with corn meal, wheat flour, spices and pork stock, livers, fat, hearts and snouts. Scrapple is a precooked meat product, which is usually served at breakfast, that is traditionally fried to achieve a crispy outer layer and a soft center.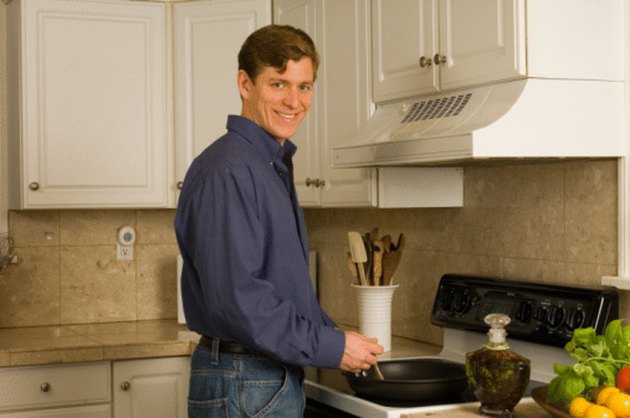 Step 1
Slice the scrapple evenly. The slices can range in thickness from 3/8-inch to ½-inch.
Step 2
Preheat a greased frying pan on top of the stove and heat a small amount of oil in the pan until the oil is very hot. Scrapple must be cooked in very hot oil to allow it to crisp evenly, which prevents it from falling apart during cooking and turning. For healthier cooking, use a nonstick pan or spray oil instead.
Step 3
Fry the scrapple for about five minutes on each side to allow it to brown and crisp evenly; use a spatula to turn the scrapple after the edges are browned and crisped.
Step 4
Remove the scrapple with a spatula, place it on a plate and serve while hot.
Tip
Rapa Scrapple packaging provides directions for oven-browning scrapple, which requires 3/4-inch slices on a cooking sheet placed in an oven preheated to 375 degrees F and browned on one side for eight to 10 minutes before turning the slices over for browning on the other side.