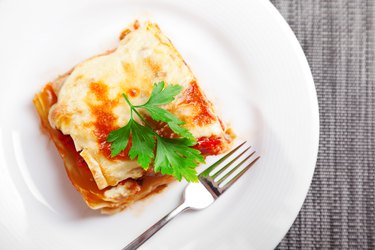 Costco lasagna comes in three varieties that feature different meats. Lasagna can be either a healthy or a not-so-healthy dish, depending on the ingredients. Whenever time permits, it's best to make it at home, so you can control what goes into it.
Tip
To cook a Costco lasagna, always follow the directions on the package, because they will differ with the type of meat that it contains. The cooking temp and time varies, but they all involve warming the dish on a cookie sheet, on your oven's center rack.
Kirkland Lasagna Directions
Costco carries two Kirkland lasagnas, one made with beef, and another made with a combination of beef and Italian sausage. To warm the one made with beef, follow these instructions:
Preheat the oven to 375 degrees Fahrenheit.
Remove the wrapping and label.
Take off the aluminum lid and bend it at the center. Place it back in the pan, and bend the corners of the lid around it.
Put the pan on a cookie sheet, and on the middle oven rack.
Cook until hot. It will take 1 hour and 55 minutes to 2 hours and 5 minutes.
To brown the cheese, carefully remove the lid for the last 15 minutes of cooking.
Take the lasagna out of the oven, and let it stand for 12 minutes before serving.
Preheat the oven to 375 degrees Fahrenheit.
Cut a 2-inch slit in the film covering the lasagna.
Put the tray on a cookie sheet on the middle oven rack.
Cook for 55 minutes, and then take away the film cover. Cook 10 additional minutes, until lightly browned.
Remove and let stand for 5 minutes before serving.
Lasagna Nutritional Information
Nutritional information, per serving of lasagna, will vary with the main ingredient. A 1 cup serving of Kirkland lasagna made with beef contains 340 calories, 17 grams of total fat, 610 milligrams of sodium, 4 grams of dietary fiber, 8 grams of sugars and 20 grams of protein.
The American Heart Association (AHA) has a lasagna recipe made with healthy ingredients, including extra-virgin olive oil, whole-grain lasagna noodles, and an array of vegetables like kale, spinach and eggplant. It also calls for either ground beef or ground turkey. One serving contains 299 calories, 7.5 grams of total fat, 129 milligrams of sodium, 7 grams of dietary fiber, 5 grams of sugars and 24 grams of protein. When compared to the Kirkland lasagna, it's contains much less fat and sodium, and more fiber.
The Mayo Clinic offers another healthy recipe for lasagna. Because it lacks the whole grains and vegetables, it's not quite as healthy as the one from the AHA, but it's more nutritious than those that are store-bought. A serving of it contains 425 calories, 13 grams of total fat, 500 milligrams if sodium, 3.5 grams of dietary fiber, 6 grams of sugars and 33 grams of protein.
Choose Healthier Lasagnas
Lasagna can be made with beef, turkey, vegetables or a combination of beef and sausage. The healthiest choice is vegetables, but turkey is preferable over the red meat options. Those made of vegetables will be lower in fat and higher in fiber.
Pasta in lasagna can be either the whole-grain or white flour variety. When cooking at home, always choose the former, because it contains fiber.
It's always healthier to cook lasagna at home rather than warming the store-bought version. If you cook it yourself, you can use wholesome ingredients such as extra-virgin olive oil, as well as limit the salt content. Home cooking also doesn't use preservatives, artificial flavors and potentially-harmful food additives such as MSG.
Aside from being healthier, home-cooked lasagna tastes better. Somehow, made-from-scratch dishes tend to be more satisfying than ready-made ones like Zinetti lasagna and those by other brands. It also doesn't hurt that they have the additional ingredient love mixed right into them.