Spinach is high in vitamins A and C, and also packs a Popeye-sized punch of iron, fiber and protein. Because fresh spinach cooks down to just a fraction of its original volume, many recipes call for one or two boxes of thawed or cooked frozen spinach to make it easier to calculate proportions. Save well-washed fresh spinach leaves for green salads, and use frozen spinach for countless main and side dishes.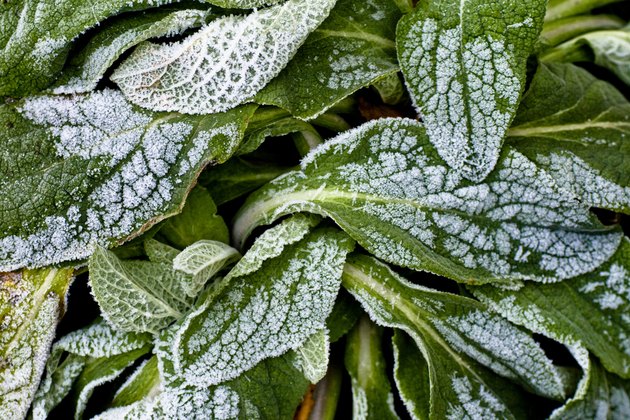 Simple Side
Cook frozen spinach according to package directions. Frozen spinach adapts well to both microwave and saucepan cooking. Drain the cooked spinach in a colander to remove the excess cooking liquid; if desired, use the vitamin-packed liquid for tomorrow's soup or protein shake. Toss the cooked spinach with a small amount of olive oil and lemon juice.
Simple Side Variations
Some cooks prefer to add toppings to basic cooked spinach for extra flavor. Sprinkle a small helping of cooked, lean bacon or grated, hard cheese, such as pecorino or Parmesan, over the cooked greens. Sautéed mushrooms also pair well with simply-cooked spinach, as do roasted garlic and red or yellow bell peppers.
Creamed Spinach
Creamed spinach is a classic side dish that transforms humble frozen spinach into rich comfort food. The traditional recipe calls for chopping thawed frozen spinach and cooking it in a saucepan with cream, butter and nutmeg until the cream is reduced. Use low-fat yogurt and olive oil for a healthier version.
Stir Fries and Sautés
Thaw a box of frozen spinach to include it in simple sautés and stir fries. Sauté the spinach on medium high heat in a nonstick skillet for about 10 to 20 minutes, along with the other ingredients such as mushrooms, tomatoes or canned beans. For stir fries, cook fresh vegetables on high heat in a heavy skillet or wok. Add thawed frozen spinach in the last two to three minutes of cooking, stirring the spinach with the other ingredients until it heats through.
Vegetable Pairings
Frozen spinach adds color and nutrition to other vegetable side dishes. Cook frozen spinach according to package directions and stir it into mashed potatoes, roasted parsnip chunks or boiled carrots. Alternatively, add the cooked spinach to lightly cooked summertime classics such as yellow summer squash, sun-dried tomatoes, corn kernels or steamed new potatoes.
Hearty Helpings
Multi-ingredient dishes incorporating frozen spinach work equally well in small portions. Use these dishes to accompany a roast and green salad, or as part of a large ethnic-style buffet. Simmer thawed frozen spinach with lentils and ginger and spices for an Indian touch. Alternatively, toss cooked frozen spinach with pasta, skim milk and low-fat cheese to create a healthier alternative to traditional mac and cheese when serving ham or ribs. Cups of cream of spinach soup or dainty slivers of spinach-mushroom quiche help round out light entrees of broiled chicken breast or poached fish fillet. To keep these multi-ingredient side dishes healthy and figure friendly, use low-fat cheese, olive or canola oil, skim milk and whole grains or wheat flour.