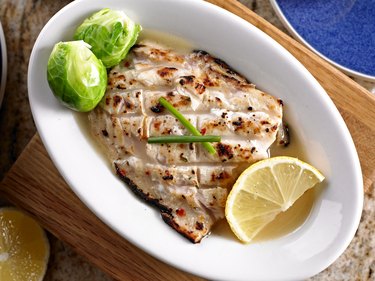 The best way to cook mahi mahi on the stove is also the easiest. All you do is season the fish and fry it in a little oil. To add flavor, make a sauce or salsa to pour over it.
Tip
To cook mahi mahi on the stove, sprinkle it with your choice of seasonings and then fry it in olive oil for a few minutes on each side.
Pan-Fried Mahi Mahi
Adrienne Hew, CN, of the Nutrition Heretic, lives in Hawaii, where mahi mahi is abundant. She shares one of her simple pan-seared mahi mahi recipes with LIVESTRONG.com. This Japanese-inspired dish has wonderful Asian flavor. To make Adrienne's mahi mahi, first assemble your ingredients:
Four 4-ounce mahi mahi fillets

Sea salt to taste
1 tablespoon butter or extra virgin olive oil
2 tablespoons mirin (sweet cooking sake)
1 teaspoon raw honey or sugar
1 tablespoon soy sauce
Then follow these simple directions:
Season the mahi mahi fillets with a little salt. Heat a large sauté pan over high heat. Add butter or oil to the pan. When heated just below the smoking point, lower heat to medium-low and add the mahi mahi fillets. Sear for three minutes or until browned on under side. Turn over and cook for another two to three minutes or until desired doneness. Remove to plate.
Turn up the heat in the pan and then add mirin and honey or sugar. Scrape up bits of fish at the bottom, cooking until sweetener is dissolved and mixture becomes syrupy. Stir in soy sauce and cook for a minute longer, stirring constantly.
Return the fish to pan. Spoon the sauce over fillets to heat through. Turn off the heat. Serve with lemon wedges.
More About Mahi Mahi
In addition to pan frying, mahi mahi is suitable for grilling, sauteing, baking and broiling. It can also be used in main-dish soups.
If you're looking for a blackened mahi mahi recipe, the instructions are similar to the pan-fried recipe. The main differences involve two steps: Season the fish generously before putting it in the pan, and then cook it over medium-high or high heat. The spices in such recipes vary, but one from the University of North Carolina Gillings School of Global Public Health calls for garlic powder, oregano, ginger, paprika, salt, red pepper and black pepper.
Gourmet mahi mahi recipes differ, but an example may include a mango salsa to use as a topping. To make this salsa, the National Center for Home Food Preservation says to mix together chopped mangoes with chopped onions, bell pepper, garlic and ginger. Pour a dressing made of water, cider vinegar and brown sugar over it.
Mahi Mahi Safety
Mahi mahi, like other fish, may contain parasites, but cooking kills them, reports North Carolina State University. It's not a good idea to eat this fish raw. Although freezing kills the parasites, most home freezers aren't cold enough. The temperature must be at or below -4 degrees Fahrenheit, and the fish must be kept in this deeply frozen state for seven days.
Freezing doesn't kill bacteria, which can cause food-borne illness, especially in people with weak immunity. However, bacterial species that infect fish are destroyed by cooking, notes the University of Connecticut. Just be careful to cook fish thoroughly.
Mahi mahi is one of the fin fish species that carry a toxin called ciguatera, which isn't inactivated by cooking. Since the toxin is undetectable through appearance or taste, purchase this fish only from a dealer with a reputation for quality.
The Natural Resource Defense Council states that mahi mahi contains moderate amounts of mercury. The Council recommends limiting your intake to six servings, or fewer, per month.