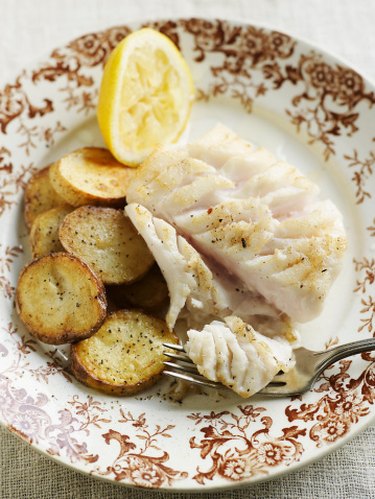 Pacific cod is a lean, mild fish that comes from marine fisheries, rather than being farmed. Pacific cod is a good source of vitamin B-12, niacin, protein and omega-3 fatty acids. Pacific cod fillets can be cooked by pan-frying, deep-frying, grilling, sauteing, baking and roasting. Baking is done in the oven with moderate heat and is a way to cook a delicious and a low-fat cod meal.
Step 2
Oil an oven-safe dish with 1 tbsp. olive oil.
Step 3
Rinse the three 6-oz.. pacific cod fillets and pat dry with paper towels. Place the fillets onto the dish and bake for approximately 12 minutes. Check the internal temperature of the fish with an instant-read thermometer. Cook until the temperature reaches 135 F.
Step 4
Heat in a small saucepan over low heat 3 tbsp. olive oil and 1 tbsp. minced garlic. Saute for 10 minutes and add 1 cup of fresh minced parsley, 1 tsp. lemon juice salt and pepper to taste. Cook for another three minutes.
Step 5
Remove the fish from the oven and place the fillets on a serving platter. Pour the parsley oil mixture over the top. Serve the cod fillets with grilled vegetables, and baked potato or rice. Makes three servings.
Things You'll Need
Olive oil or butter

Three 6-oz pacific cod fillets

1 tbsp. minced garlic.

1 cup fresh parsley

1 tsp. lemon juice

Salt

Black pepper
Tip
One 6-oz. serving of raw pacific cod contains only around 120 calories, 1 g of fat and 26 g of protein. One serving of baked cod fillets with parsley oil contains approximately 240 calories, 14 g fat and 26 g of protein. To cut down amount of fat, do not use the parsley oil.