There are various all natural herbal teas that can help to flatten the stomach by aiding digestion and reducing bloating. Teas such as green tea, peppermint tea and ginger tea are the top choices for people who wish to flatten their stomach using all natural herbal teas.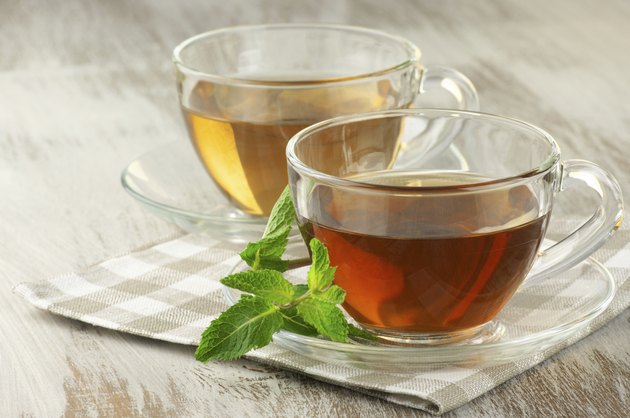 Green Tea
Green tea has been used for centuries to cleanse the body of unwanted toxins and to aid digestion. It has been suggested in recent years that green tea can actually help you to lose weight. The University of Maryland suggests that consuming green tea can help your body to speed up the metabolism and burn fat. If you want to use green tea to help flatten your stomach, aim to consume at least three cups of unsweetened green tea on a daily basis.
Peppermint Tea
Peppermint tea can aid digestion and reduce bloating. Bloating can make your stomach appear bigger than it is, therefore, consuming peppermint tea can help you to achieve a flatter stomach. Consume peppermint tea after every meal. Organic peppermint tea, which is unsweetened, is more effective than sweetened peppermint tea.
Ginger Tea
Ginger is also a digestion aid. It helps to cleanse the body of any unwanted toxins and reduces bloating of the stomach. To experience the best results from drinking ginger tea it is best made from fresh ginger root. Wash and peel the ginger root, cut it into small pieces and boil it in warm water for 10 minutes. You can now pour the hot water through a strainer and drink the tea unsweetened. Aim to drink this three times a day after meals.
Lemon Tea
Lemon is great for cleansing the system and reducing bloating. Therefore, it can help to flatten the stomach. All you have to do is squeeze a whole lemon into a cup of boiling hot water and drink it with organic honey. Again, drink this three times a day to experience the best results.