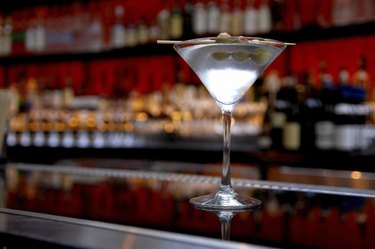 The Three Olives Company was created in 1998. Three Olives Vodka is known for its 17 varieties of lactose-free, gluten free, vegan vodkas. Vodka fans know that a smooth, tasteful vodka is what makes or breaks a vodka cocktail or martini. It is important to know how many calories are in a serving of Three Olives Vodka and how it fits into your diet.
Calories
The recommended serving size for Three Olives Vodka is 1 oz., which is the same size as one shot glass of vodka. All flavors of Three Olives Vodka only contain between 60 to 70 calories, with only slight variability due to the specific flavor of the vodka.
Carbohydrates, Fat and Protein
If you consume an average of 2,000 calories per day, you can have 225 to 325 g of carbohydrates per day, states the U.S. Department of Agriculture. A 1-oz. serving of any flavor of regular Three Olives Vodka only contains 2 g of carbohydrates. However, if you have increased concerns about carbohydrates, Three Olives offers a carbohydrate-free vodka, called Three Olives Naked Vodka. This is the only variety of Three Olives Vodka that does not contain any carbohydrates. None of the varieties of Three Olives Vodka have any concentrations of fat in them so they do not pose any risk to your daily fat consumption limits. Three Olives Vodkas also do not have any protein, which means they are not a source of nutrition either.
Alcohol Content
Alcohol content is a measurement used to describe the amount of alcohol in a serving of an alcoholic beverage in comparison to its other ingredients. One serving of Three Olives Vodka contains 40 percent of alcohol.
Nutritional Value of Common Cocktails Including Vodka
It is important to also understand the nutritional value of cocktails that commonly use vodka. For example, a "vodka and cranberry," which contains 1 oz. of vodka and approximately 3 oz. of cranberry juice served over ice has 170 calories, no fat and limited carbohydrates and sugar if you use a low-sugar cranberry juice. In addition, a vodka martini, which is usually composed of 2 oz. of vodka and a splash of dry vermouth, contains approximately 200 calories and 3 g of carbohydrates.
Considerations
Limit your alcohol consumption since high intakes could increase your risk for serious health conditions. The American Heart Association recommends that women have no more than one drink daily and men have no more than two each day.