Your time investment for marathon training depends on your current fitness level and your background as a runner. A typical training program for a 26.2-mile race includes at least four runs per week, including a long run that gradually increases in distance. Taking enough time to prepare for your first marathon can help you avoid injury and increase your odds of making it to the finish line. Consult your doctor before you start a vigorous training program if you have a history of heart or orthopedic problems or are transitioning from a sedentary lifestyle.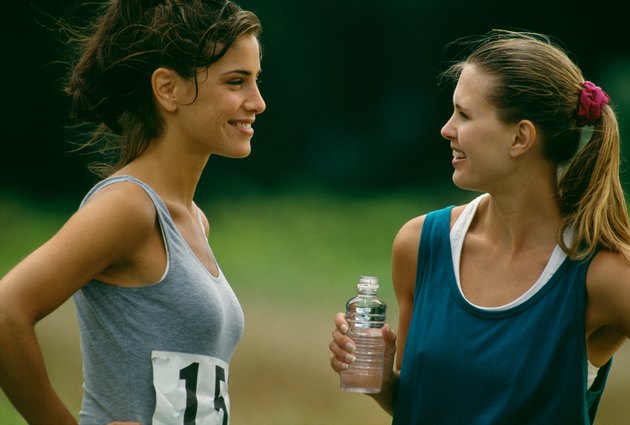 Preparation
If you're lacing up your running shoes for the first time or are returning to running after an extended break, you may want to follow a 5K training program before you move on to marathon training. Author and marathon coach Hal Higdon recommends that runners have an experience base of at least one year and master three- to six-mile distances before taking on a marathon training program. Ideally, a novice marathon runner should establish a base of 15 to 25 weekly miles before adopting a marathon training program, according to Higdon's website.
What to Expect
Marathon training programs generally range from 18 weeks to 30 weeks. Running coach and former Olympian Jeff Galloway provides a 30-week marathon training guide on his website, with additional two-week post-marathon training recommendations. The first long run consists of a three-mile trek. Higdon provides an 18-week program for runners who can comfortably run six miles already. As a general guideline, the American Council on Exercise recommends that runners add no more than 10 percent to their total distance per week. If you need to build your endurance for running three miles, a 5K training will only increase your time investment by eight weeks.
Training Schedule
The number of weeks required to adequately train for a marathon is only part of the picture. While your weekly long run will be the most time-consuming of your workouts, you need to set aside 30 minutes to an hour for shorter runs at least three other days during the week. Set aside the day after your long run for a rest day and take at least one other day off during the week to give your running muscles time to recover from vigorous training.
Considerations
Before you start marathon training, invest in running shoes that fit well and suit the biomechanics of your feet. Visit a respected running specialty store for help finding the right type of running shoe for you. Since marathon training can easily put 400 to 500 miles or more on a pair of shoes, keep up with your mileage so that you know when it's time to replace your shoes. The American Academy of Podiatric Sports Medicine suggests replacing running shoes after 350 to 550 miles.