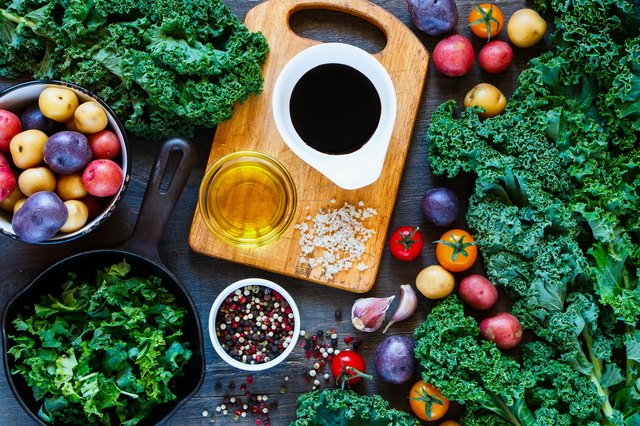 When you follow a vegan diet, eggs, dairy, meat, fish and chicken -- as well as processed foods containing these ingredients -- disappear from your menu as you replace them with vegetables, nuts, seeds, beans and fruit. But just because a particular food is vegan doesn't mean it's automatically healthful or low in calories. If you're unintentionally gaining weight -- or intentionally want to -- be conscious of your portion sizes and food choices to achieve a healthy weight on your vegan diet.
Why Weight Gain Happens
You gain weight when your calorie intake exceeds the number of calories you use in a day. A healthy rate of gain for those who are underweight or looking to put on additional muscle mass is 1/2 to 1 pound per week -- an amount achieved with a 250- to 500-calorie surplus per day.
People sometimes turn to vegan diets to lose weight. Plant foods contain lots of fiber, which makes them filling, and they're highly nutritious and low in calories. Gaining weight on a vegan diet might seem harder because many of the foods emphasized are watery, fibrous vegetables and fruits. But too many calories from any food, even fruits and vegetables, prompts weight gain. Not all vegan foods are low in calories, either. Healthy vegan options -- such as 1 cup of mixed nuts with 886 calories, five medjool dates with 330 calories or 1/2 cup of hummus with 200 calories -- can easily cause you to exceed your daily calorie needs.
Designing a Vegan Weight Gain Diet
To purposefully gain weight as a vegan, go for calorie-dense options such as whole grains, starchy vegetables and unsaturated fats. A salad or a vegetable stir-fry are nutritious options but often low in calories. Instead, opt for chunky bean chili with brown rice, tacos filled with black beans and guacamole, or a dense homemade black bean burger with sliced avocado on a whole-grain bun. For breakfast, blend up a high-calorie smoothie with bananas, nut butter, flax seed and coconut milk, or enjoy a bowl of granola topped with raisins and almond milk.
Weight training helps with putting on pounds, too. Add at least two sessions per week of strength training on non-consecutive days. Support the muscle-building process by increasing your protein intake, aiming for 0.6 to 0.9 gram of protein per pound of your body weight daily. At meals, eat larger servings of quinoa, nuts, seeds, beans, tofu and tempeh. After a workout, replace the calories you burned and promote recovery with a post-exercise snack that includes quality carbohydrates and protein. A smoothie made with fruit, almond milk and soy, hemp or pea protein is a convenient, easily digested option.
Unwanted Weight Gain
You may have started a vegan diet for ethical or health reasons, only to find yourself piling on unwanted pounds. Ask yourself if your vegan diet is truly as healthy as it could be. Although pasta, bread, french fries and many processed snacks are vegan, they can still cause weight gain.
Make sure fresh fruits and vegetables are the cornerstone of every meal. Eat ample protein daily to keep you feeling full. If you're active, aim for 20 to 30 grams at meals and 10 to 15 grams in two smaller snacks.
Nuts and seeds are a go-to source of protein for vegans, but are quite calorie-dense. Focus on lentils, with 18 grams of protein and 230 calories per cup; soft tofu with 16 grams of protein and 150 calories per cup of cubes; or tempeh with 18 grams of protein and about 200 calories per 3.5-ounce serving. Stir-fry, broil, steam or grill these protein options to avoid the extra calories that come from breading or frying. Flavor them with herbs, spices, soy sauce, canned tomatoes, vinegar and citrus, rather than with sugary sauces or fatty dressings.
Congratulate yourself if you eat ample fresh produce, but take note of the extras in your vegan diet. Avocado, vegan nut cheese, pumpkin seeds, coconut oil, nut butter and dried fruit can greatly increase your daily calorie intake. These foods are healthy in moderation, but easy to overeat.
Vegan Junk Food
A food that's labeled "vegan" isn't automatically nutritious or low in calories. Soy ice cream, chips, pizza made with refined flour and vegan cheese, white bagels, vegan butter and cream cheese, vegan cookies and cakes are all as calorie-dense as non-vegan versions of these foods. If these foods constitute staples in your vegan diet, you may pile on the pounds -- but not in a healthy way. Even if you want to gain weight, these aren't the best foods for doing so. You can still suffer the health consequences of eating too much sugar, refined grains and fat. A poor diet may lead to heart disease, type 2 diabetes and some cancers, regardless of your size.
Kudos to you if you're reaching for vegan versions of energy snacks and desserts with more healthful ingredients. But while these versions may not contain lots of refined sugar, eggs, butter and white flour, other ingredients such as nut butter, dates, coconut oil, oats, chocolate chips and cashews are still quite calorie dense. If you intend to add extra calories to your day, these may be a good option. But, if your vegan diet is making you pile on unwanted pounds, it might be better to stick to fresh fruit, cut-up veggies or air-popped popcorn as a snack.