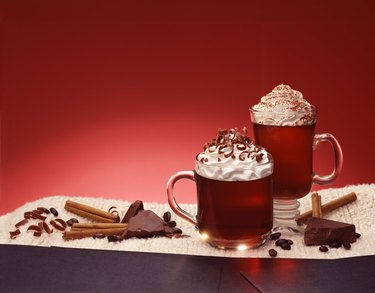 Amaretto is a smooth liqueur that can be mixed with juice, soda, coffee or other liquors.This sweet, amber-colored mixer hails from Saronno, Italy. It is known as an almond-flavored liqueur, but is in fact made largely from apricot kernels, which have an almond-like scent. Serve it by itself, neat or on the rocks, or as a sweet addition to a mixed drink.
Amaretto and Soda
Step 1
Pour one shot of amaretto into a highball glass filled with large ice cubes.
Step 2
Fill the glass to the top with cola or club soda.
Step 3
Cut two wedges of lime. Squeeze one in the drink and use the other as garnish.
Sweet, Strong Coffee
Step 1
Brew a cup of hot, strong coffee or espresso.
Step 2
Add a shot of amaretto into the cup.
Step 3
Pour in a shot of your preferred liquor to the cup as well, such as Kahlua, Sambuca, brandy, Baileys or crème de cacao.
Step 4
Top with whipped cream, cinnamon, clove and allspice.
Fruity Fun
Step 1
Fill a cocktail shaker half way with ice.
Step 2
Pour two shots of amaretto into the shaker.
Step 3
Pour one shot of sweet and sour mix or lime into the shaker.
Step 4
Shake ingredients together well.
Step 5
Rim a glass in sugar by running a cut lime across the entire rim and then dipping the rim into a plate covered in sugar.
Step 6
Strain the liquid content of the cocktail shaker into a glass filled with ice.
Step 7
Garnish with maraschino cherries or a slice of orange or lime.
Tip
Try mixing other liquors, such as Baileys and cognac or vodka or scotch, with amaretto and serving over ice for a strong drink meant for sipping on.
Amaretto is used in many holiday-themed drinks such as the Shamrock Shaker, a combination of amaretto, Shochu, Kahlua, milk and green tea powder.
Play around with a variety of juice, sodas and other mixers to find your perfect drink combination.
Warning
The sweetness of amaretto often masks the alcoholic flavor. Drink in moderation.